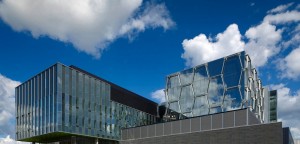 KPMB Architects, 25/09/12
KPMB Architects Design Innovative Research Facility at University of Waterloo described as 'architectural genius' by Stephen Hawking.
Opening ceremonies were held last week in Waterloo for Canada's new 'mind space', the Mike and Ophelia Lazaridis Quantum Nano Centre (QNC). The massive 26,010-square-metre Centre at the University of Waterloo, designed by Kuwabara Payne McKenna Blumberg (KPMB) is a showcase for Canadian innovation and industry in the fields of quantum computing and nanotechnology – the first of its kind in the world to bring together the two disciplines under one roof.