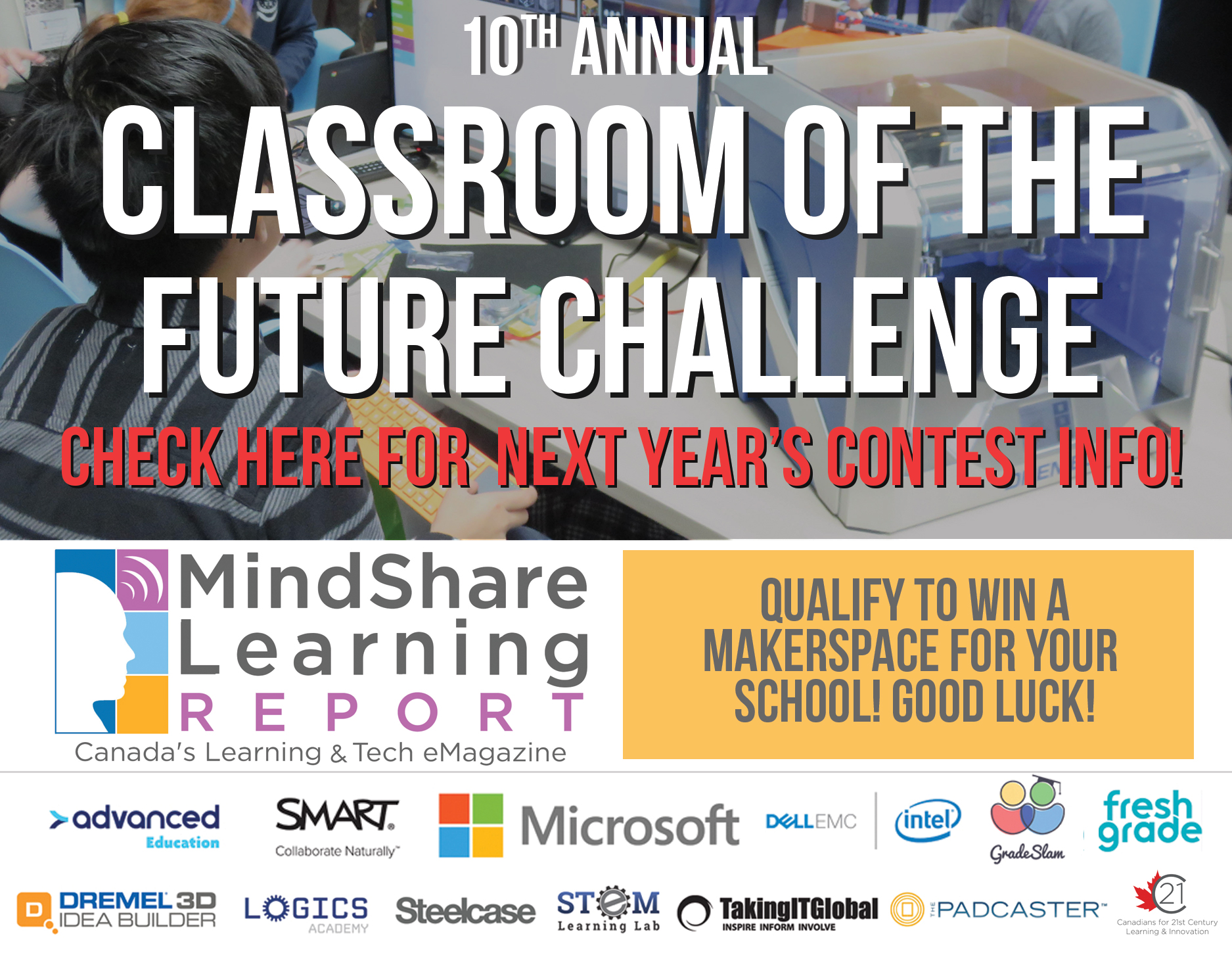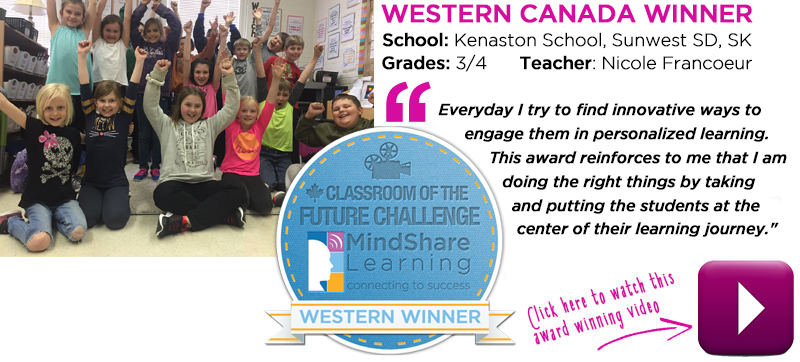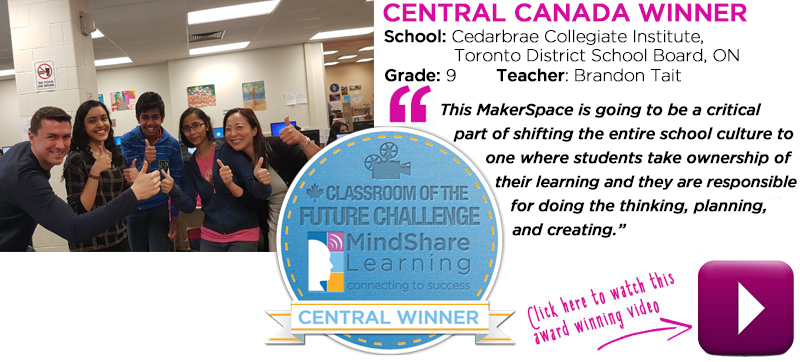 Contest Submission Details
Submissions will be accepted until midnight EST on Friday, March 31st, 2017.
The 9th annual contest challenges Canadian students & teachers to showcase their idea's on the future ready classroom. Give your students' voice by having them collaborate and create a short pitch video, 2 – 3 minutes in length, showcasing the classroom of tomorrow. Embrace 150 year's of Canadian history with a vision on the future.

Qualify to Win 1 of 3 National Makerspace Prize Packages that Includes:
Sponsers
Prize
Advanced Education
Copernicus TEC500C and a DCS1A
Microsoft

Microsoft Teacher Professional Development

Guided by a qualified education trainer, you will receive a two-hour session for teachers (and/or students) to learn how to enhance student education with technology; find out how to get free tools that spark imagination; and much more.

C21 Canada
C21 Spiral Playbook: School Set
SMART Technologies

SMART Board 6065® with SMART kapp iQ™

Powered by SMART Learning Suite (one-year subscription included)

GradeSlam

One (1) Year Subscription to GradeSlam. The winning classroom will receive student accounts for all

their students, and teacher/admin accounts for the teacher(s).

Logics Academy

Elementary Winner – Dash & Dot Wonder Pack

Secondary Winner – mBot Robot & Add on Pack

Dell
Latitude 3189 Series 2-in-1 Tablet
MindShare Learning
Two (2) VIP passes to the 8th Annual Canadian EdTech Leadership Summit 2017 at MaRSDD
The Padcaster
Padcaster Case; Lens Bracket with 72-58mm step-down ring; .45 wide-angle lens, Padcaster YT-1300 unidirectional microphone; Dual mic and headphone cable; Four (4) lens bracket mounting screws; One (1) custom camera cage screw; One (1) cold shoe adapter.
Fresh Grade
FreshGrade learning platform helps teachers plan their lessons, assess their students, document their work, provide personalized instruction, visualize student mastery based on standards and report student work and comprehension to their parents in the form of ePortfolios.
Steelcase Education
3 Verb Teacher's desks (deluxe, with rotating work surface, book box, plug strip) plus a node stool for each.
TakingITGlobal
TakingITGlobal e-Course
STEM Learning Lab
Humanoid EZ Robot (Western Only), plus two (2) lessons & training
BOSCH
BOSCH Dremel 3D Printer
How Will Prizes Be Awarded?
The official announcement of the three (3) 2017 grand prize national winners will be shared in the April
edition of the MindShare Learning Report. Winners will receive a 'Makerspace' prize package (including
professional learning) valued at over $10,000.00 for each school.  Sponsors will ship prize packages directly to the winning schools. Prizes are intended for utilization at the respective winning schools and not considered the teacher's personal winnings.
The judges are comprised of a MindShare Learning Report representative (1), MindShare Learning Board member (2) and last year's contest winners (3). The judging criteria rubrics, used by the judges, will be based on C21 Canada's 7 C's of 21st Century Learning. This rubric can be found below.
---
Standards
7 C's of 21st Century Learning
Creativity, Innovation and Entrepreneurship
Critical Thinking
Collaboration
Communication
Character
Culture and Ethical Citizenship
Computer and Digital Technologies
Source: 7 C's of 21st Century Learning Page 10

Open to full-time K-12 educators working in a publicly funded Canadian School and holding a valid teaching certificate.
Teachers must seek approval from their school principal to participate.
Group submissions (teachers and students) by a school are permitted and encouraged.
Submissions must be in video format and uploaded to YouTube.
The Submission can be no more than three (3) minutes in length and contain no copyrighted material.
All submitted video intros must include; the Mindshare Learning Technology logo, the name of the contest and the Canada 150 logo.
Please seek appropriate approvals from video participants in the event your submission is successful and we wish to showcase your video.
Prizes must be accepted as awarded. There is no cash value.
Winners must be prepared to participate in award ceremonies and agree to their photo being published.*For further info please contact us at info@mindsharelearning.com