Student Success and Beyond: Organizational Capacity, Strategic Planning, and Quality Assurance
Often in planning, student success is at the forefront of all discussions – as it should be! However, numerous diverse stakeholder groups that contribute to the improvement of student outcomes are often overlooked.
This month in the Microsoft Education Transformation Corner, we'll be focusing on Organizational Capacity, Strategic Planning, and Quality Assurance as well as the questions, processes, and practices leaders can consider in order to achieve the ultimate goal – improving student outcomes.
As with all stages of the Transformation Framework, it often helps to begin with guiding questions when discussing and building an action plan. How will you embed meaningful professional learning? How will you develop and celebrate a culture of innovation? What does student success look like to you? (See a full list of guiding questions for this stage here). Take the time to reflect on these and consult with key stakeholder groups to develop possible implementations. In planning of any sorts, it is important to involve all relevant parties to create an integrated, well-thought, and inclusive plan of action.
To build on this, it is crucial that in planning we look beyond guiding questions and behavioural assessment, and take it one step further by diving into the data. The power of analytics in planning, quality assurance, and student success is one that is not widely understood or taken advantage of to its full capacity.
Did you know that there is a 10x increase in data every five years? What can we do with this 'data explosion'? Data is instrumental to improving school systems, especially when we analyze from all angles. Each school system has a diverse set of stakeholder groups, including student, financial, enrolment, facilities, and human resources. With each of these stakeholder groups comes exponential amounts of data, ways of grouping this data, and ways of analyzing this data. The below diagram gives a sample of the types of information we can look at in these diverse groups.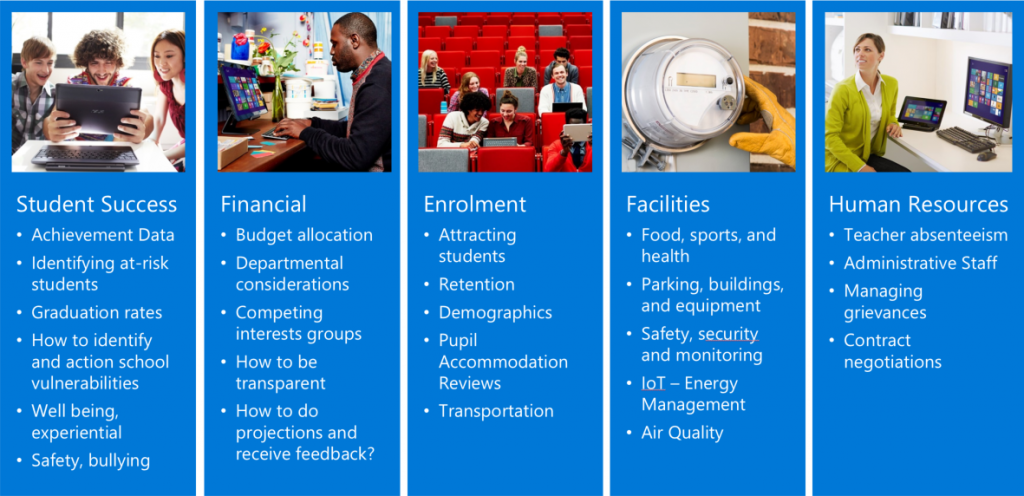 By combining behavioural assessment and analytical assessment of student success and of all diverse stakeholder groups, school systems can streamline processes, run more efficiently and effectively, save time and money, and overall, improve student outcomes.
Data analytics can be a challenging and overwhelming undertaking, but it doesn't have to be. Microsoft in Education Canada is here to help. We have numerous resources to support you through your transformation journey.
Want to learn more? Join our next webinar in the Executive Learning Series focused on data analytics!
Supporting Advanced Data Visualizations for Facilities in Finance
May 10, 2017
12:00PM-1:00PM EST
Register now >>>
Additional Resources
• Organizational Capacity, Strategic Planning, and Quality Assurance – Enabling Transformation
• Organizational Capacity, Strategic Planning, and Quality Assurance – Monitoring and Evaluation
• Enabling Transformation with Strategic Planning, Organizational Capacity, and Sustainability
• Quality Assurance: Monitoring and Evaluation to Inform Practice and Leadership