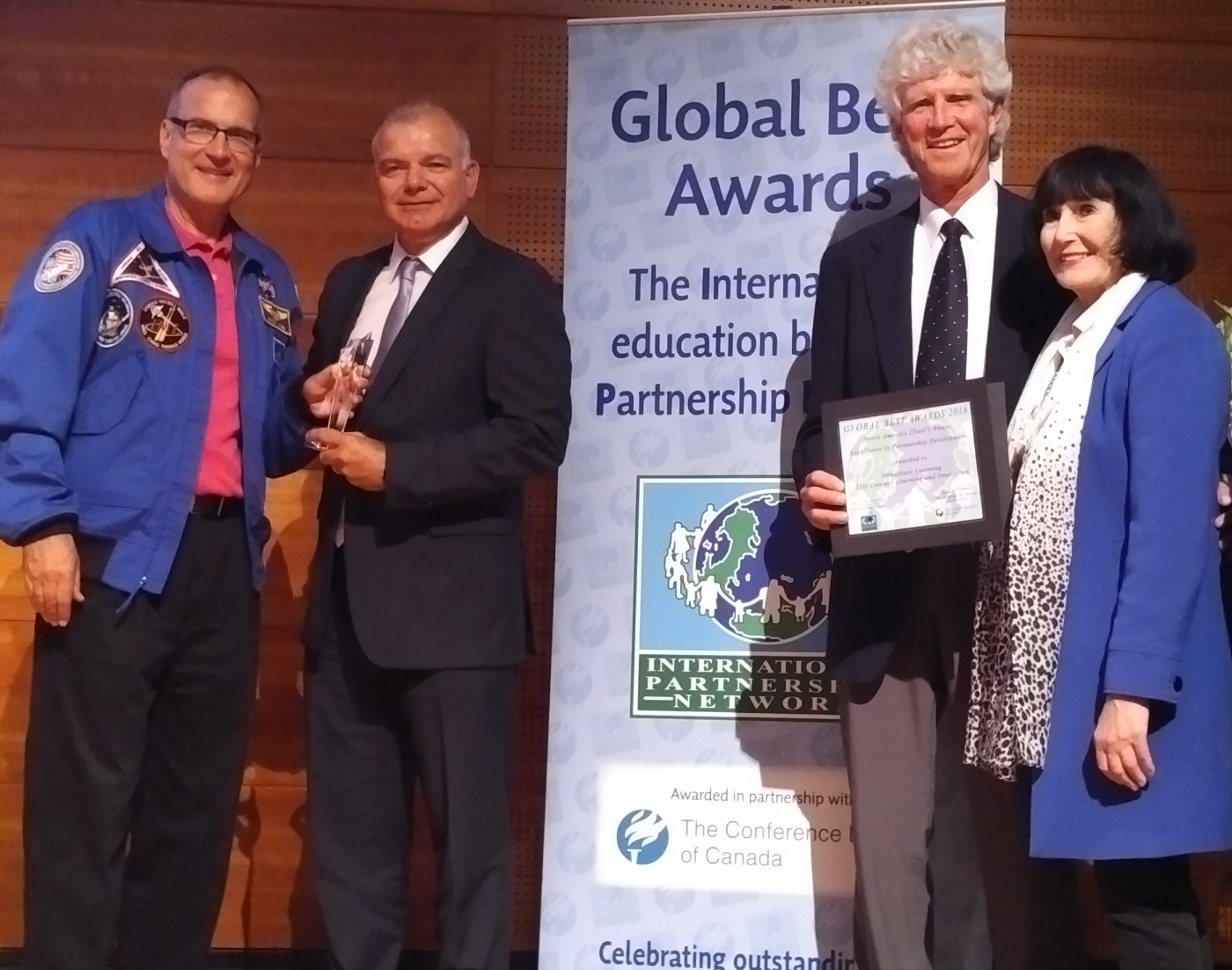 Former NASA astronaut Rick Hieb veteran of three space shuttle launches presents the IPN Chair's Global Best award to Robert Martellacci, President, Mindshare Learning Technology and David Roberts, President, 21st Century Learning Associates for the creation of C21 Canada
Toronto, Ontario, September 19th 2016 – MindShare Learning Technology — Canada's leading EdTech strategy, news & events company was named the recipient of the Special Chair's Global Best Partnership Award 2016.
The announcement was released by the Conference Board of Canada and the International Education Business Partnership Network (IPN). The award recognizes MindShare Learning Technology and its strategic partner 21st Century Learning Associates for its innovative approach to bringing key partnership stakeholders together. This approach achieves meaningful learning impacts on a national and international scale with the creation of C21 Canada–Canadians for 21st Century Learning & Innovation.
"The International Education Business Partnership (IPN) is delighted that the International judges of the Global Best Awards have awarded Mindshare Learning this special Award. It is encouraging to see your work in engaging key players in Education collaboration get this International recognition, it is well deserved," says Alex Blackwood, CEO, The International Partnership Network.
A bi-annual event, the Global Best Awards celebrate outstanding and effective business, education and community organization partnerships that have a significant impact on the communities in which they operate. "We are thrilled and honoured to be recognized for the Special Chair's Global Best Award along with our valued partner. MindShare Learning will continue to forge strong networks and partnerships that benefit all learners across the Canadian education landscape and beyond," says Robert Martellacci, Founder and President, MindShare Learning Technology.
"When informed public and private sector organizations in concert with educational leaders focus on creating an innovative education system, transformative synergies and progress occurs," says David Roberts, President 21st Century Learning Associates.
The awards ceremony took place at the 2016 International Partnership Network conference in Oslo, Norway, 14th to 16th of September, 2016. Here, MindShare Learning accepted the award at the Global Best Awards ceremony and was spotlighted in a round-table discussion presenting the partnership to other delegates and other Global Best Award winners.
About MindShare Learning Technology
MindShare Learning Technology is Canada's leading EdTech strategy consulting, news, and professional learning events company. Transforming learning in the 21st century by inspiring and sharing innovative best practices and success stories in the Canadian education landscape and beyond.
About C21 Canada
C21 Canada and its members provide collaborative vision and support to help Canadian education organizations enhance learning in the foundation areas of literacy, numeracy and science while infusing 21st Century skills (creative problem solving, critical thinking, collaboration, communication, personal development, global citizenship and digital competency) into content, and instructional and assessment practices.
###
For more information contact:
Robert Martellacci, President & Chief Digital Curator
MindShare Learning Technology
M: 416-569-2106
robert@mindsharelearning.com
Bradley Grant, Digital Learning Specialist
MindShare Learning Technology
M: 416-455-6536
bradley@mindsharelearning.com