On the Move! The Superintendent of the Greater Victoria School District, Ms. Sherri Bell, has announced that she will be leaving the School District at the end of June to assume the role of the President of Camosun College. "Although we are saddened that Ms. Bell is leaving our District, we are extremely fortunate that she is leaving the School District in excellent shape. Ms. Bell's visionary leadership will be greatly missed, however, she has mentored a great team that the Board will be relying on going forward" said Edith Loring-Kuhanga, Board Chair.
Ms. Bell,  was an inaugural C21 CEO Academy Board Member and was looked upon as an exceptional leader. Perhaps there's an opportunity to evolve a post-secondary C21 component.
Congratulations to Jade Ballek, Learning Consultant at Sun West School Division who missed attending Connect2015 this year given her new role overseeing the new district-wide blended learning initiative in Sun West.
Why Kids Need to Move, Touch and Experience to Learn
There's no question regular fitness has its benefits for people of all ages. I came across this article that gives added credence to learning, especially amongst youth who are full of energy. Please, click here to read the article.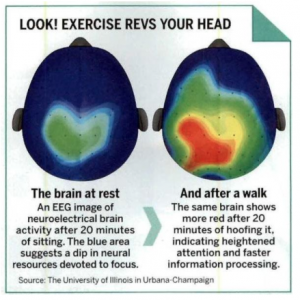 Speaking of youth and fitness, my teenage son, Michael, and I took a short trip to Florida recently to mix a little business and pleasure golf. The BIG aha moment for him was playing a round of golf with three retirees while dad worked. Despite the age gap, Michael had a great time offering up golf tips along the way and talking hockey. He perhaps now understands why dad sees nothing wrong with having friends who are older.  I'm a BIG believer in mentor/mentee relationships. Ok, Michael does still struggle with dad playing faculty hockey along side his 85 year-old linemate. I'm inspired every time I'm on the ice to keep playing for the love of the game. So important to find your passion to give balance and perspective to your busy lives. I welcome to hear from you on what drives your passion away from learning and technology! With the snow melted away, I look forward to my summer passion of golf and sailing!
Time to get back to day two of the CONNECT 2015 conference!
Until next time, keep the digital learning curve steep!
Robert Martellacci, M.A. EdTech
Publisher & Managing Editor, The MindShare Learning Report™