We're thrilled to share our 2022 MindShare Learning Digital Media Kit. As Canada's leading educational technology consulting, news and information source, our mission is to transform education in the 21st Century by sharing innovative best practices and success stories across the Canadian education landscape.
Through a MindShare Learning partnership, we can amplify your message and accelerate your company's growth through our exclusive media properties that include our highly valued MindShare Learning Report—Canada's Leadership, Learning & Technology eMagazine, our EdTech Leader Summit, and our 14th Annual Schools of the future challenge.
Over 30,000 copies of the MindShare Learning report are distributed monthly, reaching Canada's most influential and innovative educators. Our readership spans from K-12 classroom teachers to university professors, along with a range of executive educators, superintendents, CIOs, IT directors, curriculum admins and business officials from across Canada.
We offer a uniquely Canadian platform that can benefit your organization through the promotion of your educational products, services, and innovations to target this growing group of educators. You can find a comprehensive list of advertising and sponsorship opportunities below.
We thrive on connecting education to business to support student success. And look forward to the opportunity to explore how we can engage you in the MindShare Learning network.
Until next time, keep the learning curve steep!
Robert Martellacci, M.A. EdTech
Chief Digital Curator, The MindShare Learning Report™
President, MindShare Learning Technology™
Inquire about our custom EdTech strategy consulting services to help you achieve your sales and marketing goals in the Canadian education market.
The MSL Report is a must read for all leaders who want to keep up-to-date with the latest educational technology developments, ideas, and trends across Canada.
– Dr. Ron Owston, Dean of the Faculty of Education, York University
MSL Website Rates
$995/month –  Title Banner (768 x90 px)
$495/month – Large Square Banner (300 x 300 px)
$195/month – Small Square Ads (75 x 75 px)
$299/year – Buyer's Guide (Company logo and excerpt)
*Minimum three months
MSL Report Rates
$950/month – Title Sponsor – Highlighted as issue sponsor and your 150-word ad will appear at the top of the issue
$800/month – Cross Canada Provincial Spotlight Sponsor Banner – Placement above the Provincial Spotlight section
$700/month – Premium K-12 Sponsor Banner – Placement above the K-12 section
$700/month – 21st Century Industry Leader Spotlight Sponsor Banner – Placement above the 21st Century Industry Leader Spotlight section
$500/month – Green IT Spotlight Sponsor Banner – Placement adjacent to the GreenIT theme photo
$400/month – Skyscraper Banner – Vertical banner placement in the left-sidebar (150 X 400 px)
$299/month – Strategic Sponsor Button Placement – Includes HTML link to a desired website (200 X 200 px)
Circulation: Over 30,000 copies of the MindShare Learning Report are passed across Canada, monthly. Receive 10% off for multiple issue insertions. Minimum 3 months. Not-For-Profits receive 50% off advertisement rates.
*Advertisement copy deadline to be supplied by 4pm EST on the Wednesday prior to the end of the month.
Maximum banner size 540 X 80 pixels
To access the current issue of the MindShare Learning Report, go to: www.mindsharelearning.com/report
CANADIAN INTERNATIONAL EDTECH SUMMIT 2022, Sponsorship Opportunities Available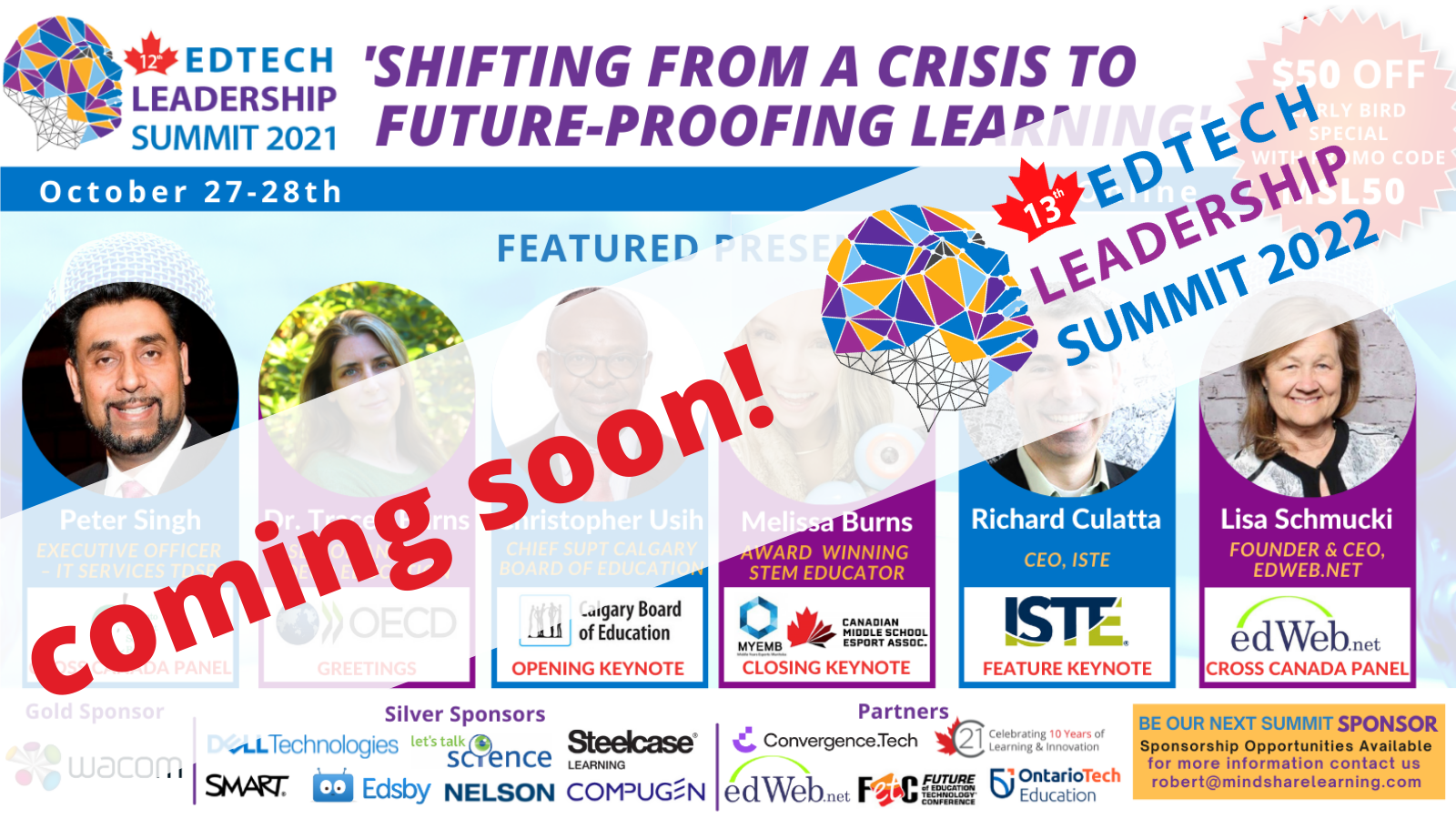 Sponsor Benefits:
VIP conference passes (2)
Logo identification on MSL EdTech Innovation Summit printed material (banners, post cards, signage, etc.)
Tabletop Display – Classroom of the Future Showcase
Logo identification in pre-conference promotion ads appearing in the MSL Report (6) and email blasts
Logo identification on official conference website
Sponsor photo opportunity
Invite to VIP Speakers/Sponsors Dinner
Price Varies – contact robert@mindsharelearning.com for pricing information
Sponsor The Schools of the Future Challenge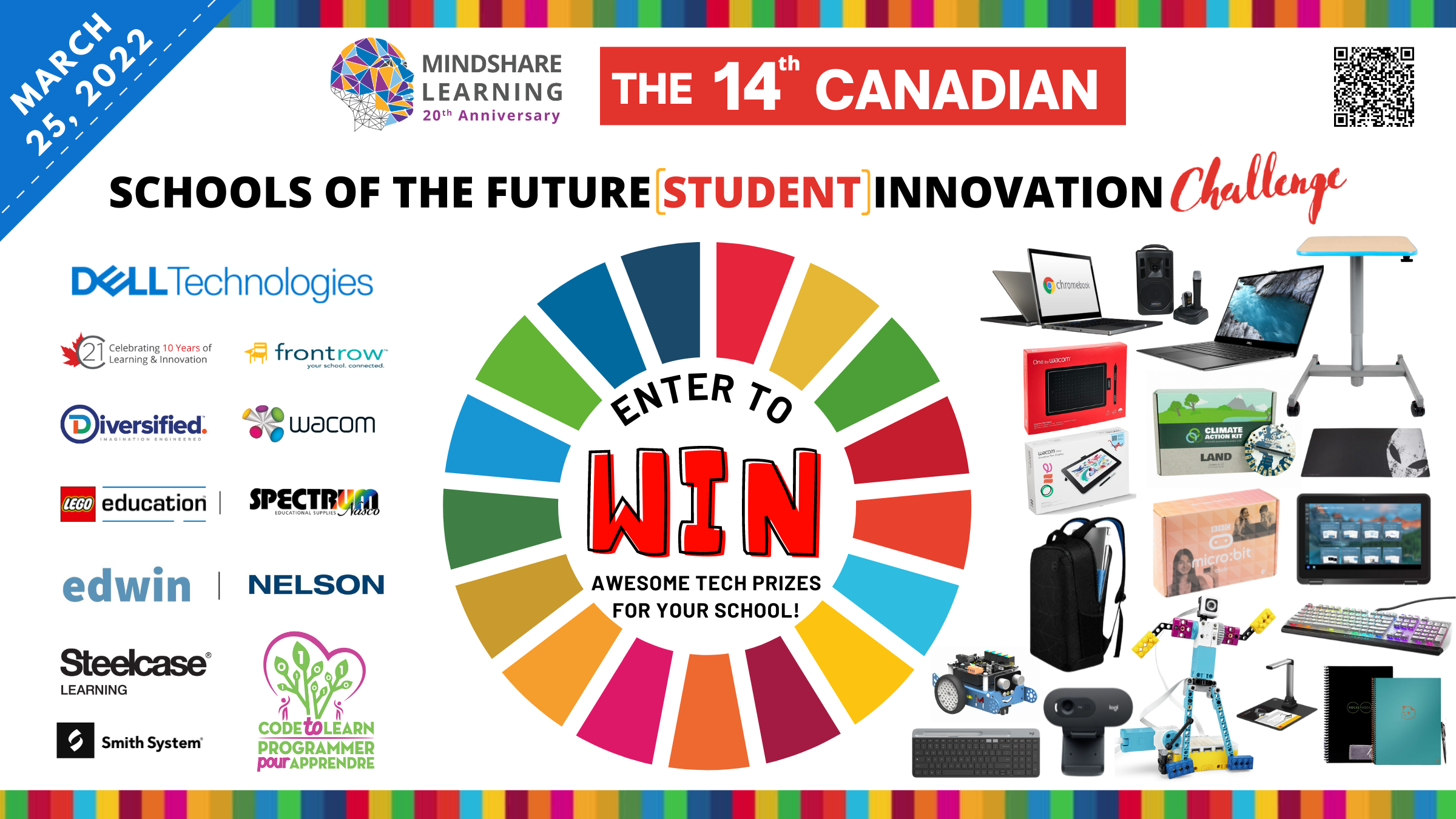 The Schools of the Future Challenge! Building on previous years' successes, we are redefining the contest goal to help Canada get beyond pockets of innovation bringing equitable tech tools, knowledge and resources to all publicly funded schools. The CSFI Challenge is a fun project-based activity for teachers to engage students in developing essential skills to be real-world problem solvers.
Research shows that technology infused pedagogy has the power to transform teaching & learning. We can now create deeper and authentic learning experiences through student-centered learning and the use of digital resources that are now available to both teachers and students.
The design philosophy of this year's CSFI Challenge aims to help support student learning by solving real-world UN Sustainable Development Goals (SDGs) community challenges within the school, or local community..
Cost: $1,500 + Product Prize Donation (3)
News MindshareTV Podcast Series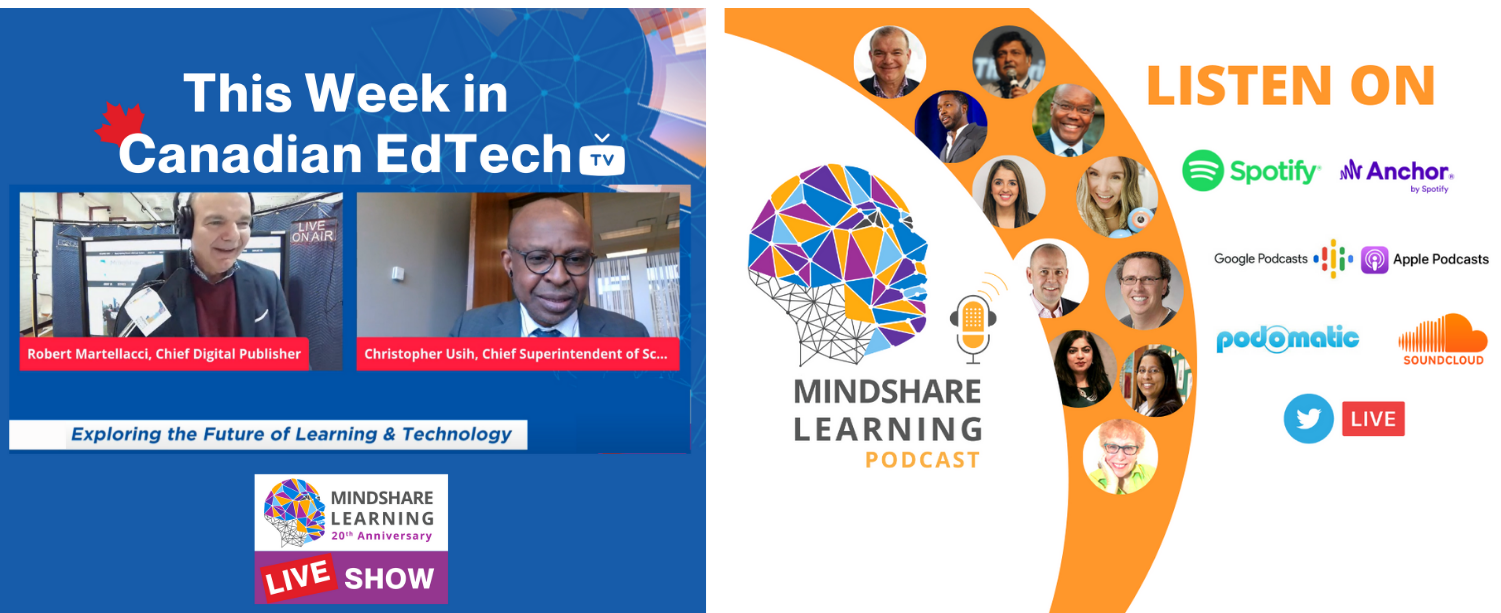 This Week in Canadian Edtech MindshareTV Podcast Series. Our mission is to transform education by sharing knowledge of 21st Century innovative best practices and success stories in the Canadian education market space and beyond. We harness the power of Web 2.0 technologies to feature engaging Vodcasts, podcasts, polling, Canadian educational technology news headlines & upcoming strategic industry events in the K-12, Higher Ed and corporate eLearning market segments. Other elements of the MSL Report eMagazine include: successful practices, ask an educator, ask a professor, research & tech tools, GreenIT and career listings, to support educators and educational technology providers in maintaining a pulse for emerging trends in Canada.
Sponsor Benefits:
Podcast Sponsorship Starting at $500/ per episode
Price Varies – contact robert@mindsharelearning.com for pricing information