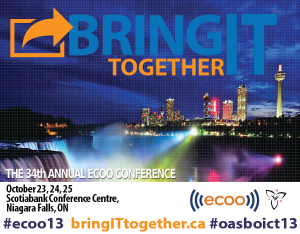 ECOO 2013 Ontario's Annual Education Technology Conference
Bring IT, Together | October 2325
| Niagara Falls, ON
#ecoo13 bringITtogether.ca #oasboict13
Every fall, educators from around Ontario gather to share expertise and learn from one another about the use of computers and information technology in Ontario classrooms. For 34 years, the Educational Computing Organization of Ontario (ECOO) conference has been providing leadership and guidance to educators, from the initial days when students sent their punch card
programs out for processing, right up to the present day when the majority of students carry computing devices in their pockets.
In recent years, rapid advances in the role of technology in support of personal learning across all program areas and all grades have
resulted in a broadening of the range of participants at the conference. Today, the annual conference brings together teachers and CIOs, superintendents and technology supervisors, principals and IT support staff and even students! In support of this, recent conferences have seen the inclusion of sessions and tracks from other educational organizations and subject associations including OAME, OAJE, Ontario's francophone teachers and the NFB, to name a few.
 In fact, pervasive influence of technology in all aspects of learning today has led to this year's theme, Bring IT, Together, with the IT acronym not only reflective of the enthusiasm participants have for sharing the best from their classrooms, but also giving a nod to the increasing integration between the educational and technical teams within schools and jurisdictions. This year's conference is sponsored in conjunction with the ICT arm of OASBO (Ontario Association of School Business Officials), and will feature a focused day of sessions for district CIOs, technology supervisors, and IT personnel. The conference will provide a context for discussions between stakeholders across departments and divisions, and will promote continued conversations into the future.
So, what can you expect at #ecoo13 Bring IT, Together #oasbo-ict in Niagara Falls later this month?
Keynotes: Robert Baker, Amber MacArthur, Jamie Casep, Kevin Honeycutt
Wednesday Workshops: Minds on Media; The Google Spot; NFB Learning Through Media;
Microsoft Workshop; OAJE Integrating
IT into the P/J Classroom
Sessions: Over 200 different sessions and events provided by Ontario Educators
Exhibition Hall: A new expanded exhibit space of Education Technology vendors, and featuring
two new elements The Learning Space and The Innovation Initiative
Social Events: OASBO-ICT
Banquet/Dance, BringITtogether Social & Networking, ECOO
Dinner & Networking and some exciting new events this year including a MineCraft LAN Party, a
Niagara Falls Night Lights Photowalk, a Bring IT Together Jam Session, and a Morning Run
Along the Falls.