Contact North I Contact Nord
Ontario's Distance Education & Training Network to represent the Ontario online learning sector on the International Council for Open and Distance Education.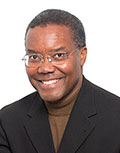 Maxim Jean-Louis, President & Chief Executive Officer of Contact North I Contact Nord has been elected for a four year term as the North American ( US & Canada) representative to the Executive Committee of the International Council for Open & Distance Education, headquartered in Norway
Other members of the Executive Committee includes:
 Mandla Makhanya: Principal and Vice- Chancellor of University of South Africa.
Yang Zhijian: President, The Open University of China.
Tian Belawati: Rector. Universitas Terbuka, Indonesia.
Mena Marta: Director of Virtual Training Program for Researchers at the Secretariat of Science, Technology and Graduate Studies, National Technological University (Universidad Tecnológica Nacional), Argentina (individual member).
Alan Tait: Professor of Distance Education and Development Faculty of Education and Language Studies, The Open University, UK.
This serves as an opportunity  to link Ontario's colleges and universities with the international online learning community and also to champion the needs of online learners  at the highest level.
Contact North I Contact North is Canada's largest distance education and training network with 112 online learning centres supporting more than 600 small, rural, remote, Aboriginal and francophone communities throughout Ontario and operating the Ontario Online learning Portal for students which averages 25 000 visitors a month and the Ontario Online Learning Portal for Faculty & instructors which averages 14, 000 unique visits  a month.