Feature Blogger Professor Mary Leigh Morbey, PhD., Associate Professor of Culture and Technology, HASTAC Conference Organizing Committee, Co-Director of the Institute for Research on Learning Technologies, Faculties of Graduate Studies and Education, York University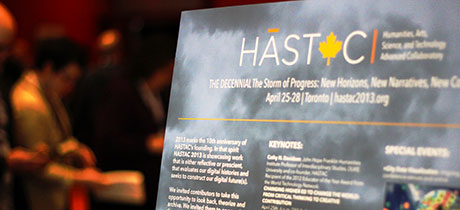 In late April 2013 MindShare Learning, along with York University's Institute for Research on Learning Technologies, participated as event sponsors for the Humanities, Arts, Science, and Technology Advanced Collaboratory (HASTAC) International Conference, The Storm of Progress: New Horizons, New Narratives, New Codes, held at York University. HASTAC, an international scholarly network of individuals and institutions, focuses upon the possibilities that new technologies offer for shaping how we might learn, teach, communicate, create, and organize our local and global communications. Since its founding in 2003, HASTAC has grown to a network of over 9000 members, including hundreds of HASTAC scholars (graduate students) from over 120 institutions around the world. 325 participants attended the York University hosted event.
The York conference was lively and fascinating, ranging from world-renowned presenters, for example, Cathy N. Davidson, John Hope Franklin Humanities Institute Professor of Interdisciplinary Studies at Duke University and HASTAC co-founder to Paolo Antonelli, Director of Research and Development and Senior Curator of Architecture and Design at the Museum of Modern Art, New York. Alongside the more famous was a diverse range of academic presentations from around the globe as well as HASTAC scholar graduate student presenters: in HASTAC all have equal place and voice.
The conference offered as well outdoor architectural projections, evening musical performances, a global women Wikipedia write-in, and technological demos and poster sessions providing diverse access to a broad range of contemporary technological creations! The conference ended with post-conference workshops featuring DesignLab: Workshop on Evaluating Media Assignments and Assessing Digital Literacies, Cultureplex Lab: Authoring Educational Games using Dr. Glearning, and SnapDragonAR: Augmented Reality Authoring for Anyone.
The HASTAC event, lively and full, was enjoyed by persons from around the world and by many that make York University their home base. We saw 21st century innovations and learning in practice.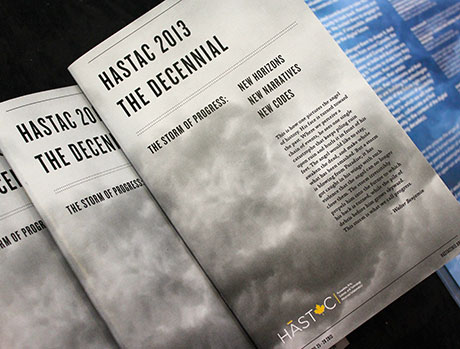 Mary Leigh Morbey (PhD)
HASTAC Conference Organizing Committee
Associate Professor of Culture and Technology
Associate Co-Director of the Institute for Research on Learning Technologies
Faculties of Graduate Studies and Education
York University
Toronto, Canada