Dear Thought Leader,
Speaking of June, with graduation upon us, we're thrilled to celebrate the accomplishments of students' across the country who have achieved the extraordinary. Please drop me a note to share your students' success stories!
To our corporate partners, we encourage you to join us in this special 'Celebration of Excellence' issue as limited space is still available to include your message.
In closing, we are pleased to welcome our newest partner, McGill University's Leads project, along with returning partner, York University IRLT as part of our 2nd Annual EdTech Teacher Survey. Click here to complete the survey. Please don't hesitate to share with your colleagues.
Until next time, keep the learning curve steep!

Robert Martellacci, M.A. EdTech
President & Publisher
MindShare Learning
1. Feature video with Devon Caldwell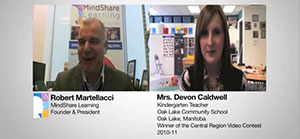 Devon Caldwell is a kindergarten teacher from Oak Lake Community School in Oak Lake, Manitoba.
Reflections from a past MindShare Learning contest winner
2. Learning is Changing whether we like it or not!

If I ask most people to think about their experience of learning in schools, they tell me about sitting in rows, working quietly at their desks while the teacher was directing things from the front of the room. When I probe further, and ask them about what they remember from school, they will often speak about friends they made or activities they engaged in more then their learning experiences.
Connect 2013 K12 CIO Webinar: How New Technology Choices are Impacting BYOD and 1:1 Deployments
With Graham Palmer, Dino Miele, Peter Singh, and Mark Keating
4. Interview with James Diodati, Mayor of Niagara Falls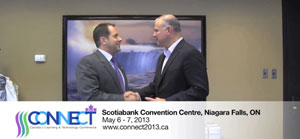 A MindShare Learning Moment with James M. Diodati, Mayor of Niagara Falls, about what he expected at Connect 2013, Canada's Learning & Technology Conference, May 6-7, 2013.
5. Local teen robot designers come out tops in international youth robotics competition
For the first time in its 21-year history, two Canadian teams secured top spots at the FIRST Robotics Competition (FRC) championship held last weekend in St. Louis, MO.
DSBN's online library software, named Destiny, the system is available in all DSBN schools, but can also be accessed at home giving students the ability to read, write and research at any time
7. Classroom Education Arrives with Samsung School
BC's Riverside Secondary School is first in Canada to pilot Samsung School, consisting of Samsung software, 31 GALAXY Note 10.1 units and a 65-inch digital e-Board
The school bell represents everything problematic with the education system. It insults the intelligence of students and generates apathetic learners. The education system has created an institution out of school and an obligation out of learning.
9. Students apply social media at International Youth Leadership Summit
The Calgary Board of Education hosted local students and international peers from Denmark in discussions about using social media and other technologies for social change during a three-day International Youth Leadership Summit (IYLS).
10. COLUMN: 3D PRINTING AND THE NEW INDUSTRIAL REVOLUTION
We have now reached a time where ideas can become tangible, either right at our desk or certainly from our tablets or smartphones. Where you can move an idea from your head to an eager market all from your desktop.