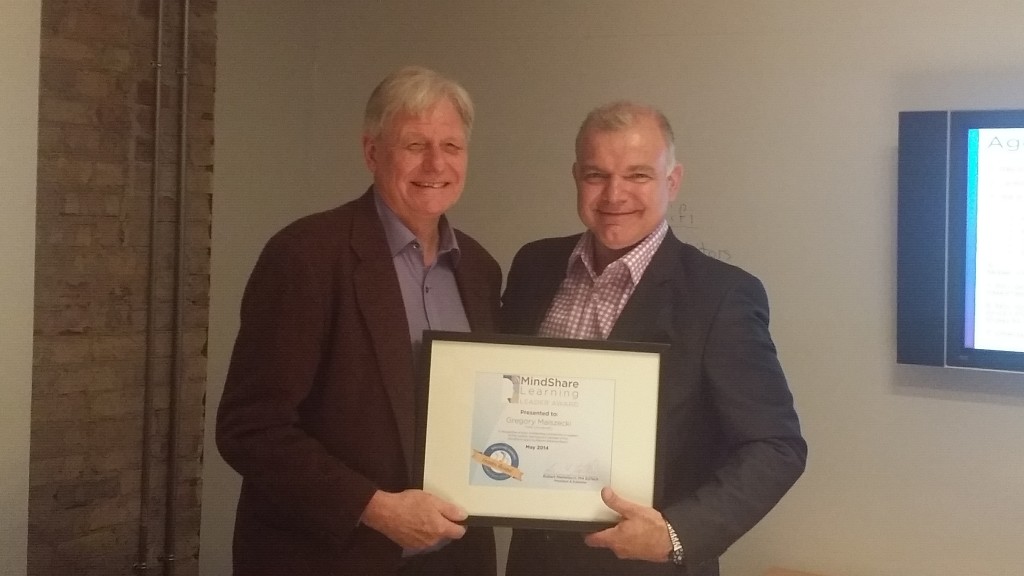 Dr. Greg Malszecki receives the MindShare Learning Leader Award from Robert Martellacci, President, MindShare Learning
Back-to-School stirs up so many great emotions and memories. We are fortunate to live in such great country with provincial education systems that are among the top in the world according to the OECD. What intrigues me is the passion I see among education and industry leaders to make a difference. You are not "just a teacher," or a "sales person" catering to this very important and emerging sector. Hence, it's the people who make it happen. The teachers in the trenches and the folks out there producing the tools, computers, tablets, software and essential resources that all play a role in contributing to student success.
It is about making those connections as you build your professional learning network (PLN) through social media that enables "mindsharing" and a continuum of learning and mentorship. I have been fortunate to be surrounded by many excellent mentors over the years. It's not accidental. You need to nurture and engage in the process. One stellar example is our outgoing MSL Report advisory board member, Dr. Greg Malszecki, who is an award winning professor emeritus at York University. This  man is what legends are made of. How  does my favourite professor from nearly 25 years ago, become a colleague, friend and advisory board member? I recently honoured Dr. Malszecki with our prestigious, MindShare Learning Leader Award in recognition of his valued contribution to MindShare Learning and to the field of education.
Dr. Malszecki's passion for learning, storytelling, and challenging his students and colleagues to engage in collaborative learning networks, was a gift that he instilled in me. For that, I am grateful and feel compelled to carry on the tradition. In fact, our brand MindShare Learning, in combination with the learning, is the essence of what Dr. Malszecki instilled in me. I can't tell you how many times Greg would come and hang out in the lounge or pub and connect with his students. This seems to be a rare occurrence these days where students no longer just hang out and chew the fat, so to speak. It's an art as much as it is a science. I honed my networking skills every opportunity I had. Ok, perhaps a few too many pub nights as a university student.
As an education, or business leader, you have the opportunity to be a Professor Malszecki, who was one of the most sought after professors when it came to letters of recommendation for entrance into graduate school, a job, or teachers college.  Why you ask? Because he connected with his students and he cared. It's not, to use the proverbial, "rocket science."
There you have it. I've shared my secrets to successful connected learning that was greatly inspired by one educator. Thank you Dr. Malszecki for helping nurture those essential 21st century skills that have served me well. Your collegial collaborations, friendship and mentorship will always be remembered and highly valued. I'm committed to carrying on the tradition of connected learning.
With this new school year brings opportunity for all of us to raise the bar in transforming learning and continue our legacy as one of the most envied education systems in the world.
Until next time, walk the digital talk!
R.M.