While we like to celebrate successes, it's important to recognize failures and learn from others as I like to do. While Google gave it the old "College try," some things are just not meant to be!  Here's an article from Harvard School of Business that provides insights for budding inventors. The truth hurts: Google Glass Failed Because It Just Wasn't Cool.
People on the move! Congratulations to  MindShare's friend John Malloy, former Director of the  Hamilton Wentworth District School Board , who was recently appointed Deputy Minister of Education in the Ontario Ministery of Education.
Kudos to Jesse Wolley Wilson , CEO of Dreambox Learning, our valuued  artrtner for receiving the Seattle Biz awards.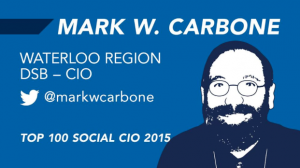 Congrats  to our CIO friend Mark Carbone from the Waterloo District School Board for being recognized as one of the Top 100 Social CIO's in 2015!
Until next time, walk the digital talk! Cheers, R.