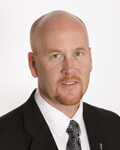 Jeff Johnson was elected to his first term as a Member of the Legislative Assembly for Athabasca-Sturgeon-Redwater (formerly Athabasca-Redwater) on March 3, 2008.
In May 2012, Mr. Johnson was appointed Minister of Education. This appointment builds on Mr. Johnsons' experience as co-chair of the pioneering Inspiring Education committee. He has been previously appointed Minister of Infrastructure, Minister responsible for the Oil Sands Secretariat and Parliamentary Assistant to the Treasury Board.
In addition to his regular duties as an MLA and the Minister of Education, he serves as a member of the Treasury Board, the Agenda and Priorities Committee and the Operations Committee.
He is currently the chair of the Council of Ministers of Education, Canada (CMEC).