The Maker movement is not new, but its impact on education is in its infancy. Moreover, the thing with 'newborn ideas' is that there are always stumbling blocks, and larger learning curves. Take for example the very definition of 'Makerspace.' If you ask different educators or those involved in the movement as the 'guiding lights,' you are bound to get different definitions, or at least the term 'Makerspace' will be defined through a different lens of emphasis. In our task of redefining our school library into a first-rate Learning Commons, we decided that we should include a 'Makerspace.' Well, not so easily done if you have a group of people who see this philosophy differently.
Even our Top Ten Tips for Creating a Makerspace is biased, and mostly toward technology. Do you need to have technology in a Makerspace? Not necessarily. Some Makerspaces include building tools like hammers, screwdrivers, wire, wood, and just about anything you can think of to fasten together using any manner of device. However, it is still a Makerspace. What then is a Makerspace? I believe that the most basic definition of a Makerspace is a place where students can wonder, dream, plan, design, construct and build different things in a collaborative environment using a plethora of different approaches and tools. These 'things' can be something innovative, or not. They can be useful, or simply something that occupies a creative mind exploring different approaches to different ideas.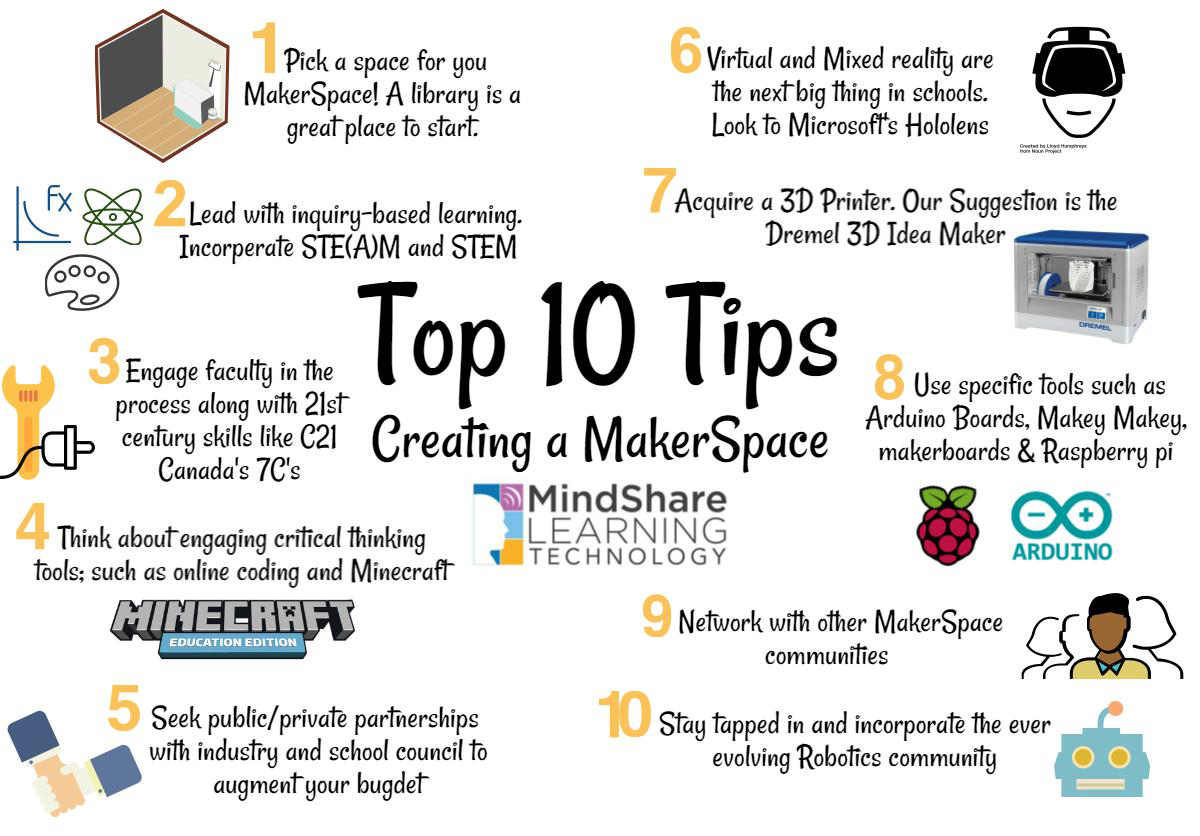 So, why do we include a Top Ten Tips for Creating a Makerspace that includes mostly technology? Well, because in our emphasis, we believe that bringing the 'maker philosophy' to technology emphasizes the 'maker' and the process rather than the tools and the product. Moreover, to be clear, technology like Arduino Boards, Raspberry Pi computers (this whole movement in single-board computers continues to grow – check out Onion, and Pine as examples) are Maker favourites because these devices can be used to build other more complex things. Further, they engage the builder in working with devices that have powerful outcomes and results. The most important point about any Makerspace is that it allows students to control his or her learning. It is truly a constructivist environment that emphasizes inquiry; students feel empowered to learn because of the autonomy of the maker context and the excitement found in exploration and discovery.
At my school, we are still in the discovery stage of building a Learning Commons that includes some facets of a Makerspace. One of the most critical and pivotal points in this process is the space itself. How do we design it so that it includes collaborative environment, individual spaces, open classroom areas and yet can be re-configured quickly to adopt to something entirely different? How do we create this space to be safe and open for inquiry for our students? How do we include a space that invites students to explore with all of their five senses in an area that generates ideas, enthusiasm for learning, and yet can be contained enough to encourage classroom teaching and inquiry-based learning? What 'tools' will be more adaptable to this space? How should we adapt to the need to be eco-friendly?
What about the furniture? Will the furniture be maker-friendly? How about purchasing furniture that allows the students to feel 'free' from being constrained by the typical classroom furniture and allows them to 'feed' off of their natural tendency to move and swing? We have already 'tested' out some of the furniture using our students so that we could include their voice in this process, which we believe is necessary. In one case, while we were reviewing some products for our Learning Commons transformation, a student honed in on a particular chair because it allowed her to move about while working. We decided to move the product to her classroom to see what kind of an impact this 'chair' (Steelcase's Buoy) would have on her academically. Since the student was often prone to leaving work unfinished, we were especally interested to see if something as simple as a change in seating would help her improve her concentration and work output. The very next day the teacher reported that this student had completed all of her work while using this 'chair.' Furniture can have a powerful impact on student learning!
In the end, at least in our Learning Commons, we will adopt some Maker philosophies. Will we be a pure 'Makerspace'? Not likely only because space does not permit it and replacing the resources required for a typical Makerspace are limited. What then will we take from the Makerspace movement? As mentioned already, we want to create a dynamic learning environment that flows with 21st Century learning, engages our community, our students, and our staff. We want a space that allows teachers to take risks in new teaching methods, gives them the tools that will equip and empower them to adapt to the world around them and the world beyond. We want students to work in a space where they feel 'at home' and are not hindered by 'stuff' or controlled by 'objects.' We want students to step into a laboratory of their making; one that exudes excitement, and discovery.
The tough task is this whole process to make it simple. Moreover, as Steve Jobs rightly noted, "Simple can be harder than complex; you have to work hard to get your thinking clean and make it simple." Creating a space that fosters the creative process, harnesses the deep thinking that we so often talk about, all the while making sure that our students have their basic needs met is a process of thinking that cries out for simplicity. We are not there yet. And to be honest, I do not think we ever will be, but it will not stop us from moving forward with a spirit of determination to do what's best for our students and staff in a world that is ever changing, never sleeping and always moving. The team that we have brought together has grown through our investigations. In one sense, it has been a process of collaborative inquiry. It has been a concerted effort to find the simple in the complex. I think, in the end, we'll find the right 'space.' It's just a matter of time.