ViewSonic IFP6550 4K Ultra HD Interactive Flat Panel and MVW Software Suite.
Interactive panels have become a cornerstone of modern education, revolutionizing how students and teachers interact with content. But what makes one panel stand out from another in this competitive market? One key differentiator is the combination of hardware and software each company offers. A later entrant to the market, ViewSonic has benefited from examining existing hardware and software and innovating accordingly. Interactive panel hardware across assorted brands tends to offer similar features and warranties, with occasional innovation setting one company apart from another. One area where significant variation occurs is in the software suites each company provides. The variations occur more with the approach rather than the content. For example, most major interactive panel software for education will offer similar tools, offline and student interactivity via a portal and some great resources to make the user experience as intuitive and effective as possible. ViewSonic has had the luxury of taking a broad view of the current software for interactive panels and made some unique and, I believe, impactful changes.
ViewSonic has made noteworthy strides in the educational interactive panel market. Beyond well-designed and powerful hardware available in different formats and sizes, the myViewBoard Whiteboard (MVW) suite differentiates ViewSonic from its competitors. MVW is a logical and coherent software suite that constantly meets the demands of educators who are differentiating content and presentation material. You are not locked down to a paradigm where you must move linearly when developing lessons or presenting content, whether that content is created within MVW or from another source, regardless of whether it is a local source or one found on a network. Other interactive panel software providers give you similar abilities, however, MVW does it more seamlessly and cogently. I will speak to this unique and powerful approach below.
Before I delve into myViewboard Whiteboard (henceforth, MVW) let me showcase the interactive panel I used for this review. The ViewSonic IFP6550, a 65-inch ViewBoard® 4K Ultra HD Interactive Flat Panel. This device boasts a large 65-inch 4K Ultra HD interactive display, producing visuals of such clarity that they are exceptional – years in the monitor market have certainly helped ViewSonic develop a top-notch interactive panel display! The 20-point multi-touch support allows for direct interaction with the screen, using either fingers or stylus pens. To ensure a superior audio experience, a 45W stereo soundbar is integrated into the device. A powerful quad-core processor drives this device, offering a range of connectivity options, including HDMI, VGA, RJ45, and USB ports. The built-in myViewBoard® Manager software is convenient for scheduling updates and remotely monitoring the device's status. The panel I used was equipped with Windows 10. ViewSonic also provides a generous 3-year standard warranty, with options for extension and access to comprehensive support services. For the full specifications, you can read more here.
MVW Software Suite (MVW) – The Real Difference Maker
Educators continuously search for innovative tools to augment teaching methods and engage students. The MVW software suite is one such tool that has recently piqued my interest. Designed to function seamlessly across various operating systems, including Windows, Android, iOS, and online platforms, this software's distinct features and versatility set it apart from other interactive MVW applications. This review will highlight the unique attributes of MVW, demonstrating how it enhances classroom engagement and improves instructional delivery. As always, you can download and review a copy of the software independently. You can download a free version here. ViewSonic's software license fees, published online, are primarily designed for individual users. ViewSonic offers complimentary access to their myViewBoard system for customers who buy their hardware. These customers can then create unlimited accounts for their teachers without any extra charge.
MVW is a comprehensive digital solution integrating various devices and operating systems. Upon creating a MyViewBoard account and subscribing to either a Premium or Entity account, users gain control over their cloud storage services, bookmarking capabilities for favourite websites, and custom settings for different built-in tools. While it is particularly effective on large touch displays, MVW functions smoothly on non-interactive screens like laptops, responding seamlessly to mouse clicks. The platform's intuitive interface, rich with customization options, is specially tailored for educators. It's organized main and floating toolbars provide quick access to commonly used tools. A notable feature is its cross-platform compatibility, ensuring a uniform user experience irrespective of the device or operating system.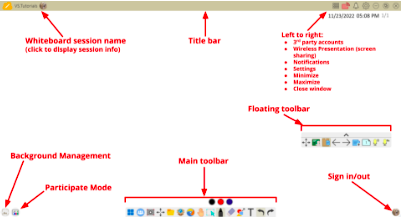 The MVW interface is clean and easy to use. You are not overwhelmed with a myriad of choices. Select the tool you wish to use and then begin to create. Often teachers have files they wish to use with various file formats. MVW can read many file formats (including Notebook and Actinspire files), allowing you to begin with content created in other programs. Import a PDF or PowerPoint file from Magic Box, and you can easily use MVW's tools to highlight or augment the material as necessary. You can import files from Google Drive, OneDrive, Dropbox or Box with little effort. Logging into MVW means that your work gets saved to the cloud.
Key features include the Magic Box, a widget containing dynamic tools for creating engaging presentations and lessons. Also worth mentioning is the Infinite Canvas for unrestricted brainstorming or mind-mapping and the Wireless Presentation tool for straightforward content sharing. MVW's adaptability to different learning scenarios is highlighted by its easy import and interaction with common file extensions, thus facilitating effective and flexible teaching. To use the software effectively, viewing the comprehensive library of 'How To' videos on their website or YouTube makes sense. Learning any software takes time, but it is time well spent if you want to use all the MVW's features effectively in the classroom.
Once your log out, you are completely logged out from the software. When you create an account, you get a URL in the following format: https://mywhiteboard.com/name. You can manage various options from this link, including the cloud services you want to access via MVW's interface. Even default settings for pens, font size and access to more backgrounds are available via your myWhiteboard online portal. Other available options via your portal include accessing Original Content, lessons, backgrounds, graphics, and online games. Your access to materials depends on your account level.
The main toolbar is command central for most of your MVW needs. The toolbar can be located either on the bottom, top, right or left side of your window. The tools on the main toolbar (see image) are from left to right: Windows Toggle; Wireless Presentation and Video Conference; Screen Shot and Screen Record tools; Toolbar Move; File Tools; Magic Box; Embedded Browser; Canvas Move; Select Tool; Pen Tool; Eraser Tool; Shape Tool; Text Tool and Redo and Undo.

Most of the tools provide more options once selected. This option is currently available for Windows only. Mac users would benefit from this option as well. The main toolbar is clean and uncluttered. As software programs develop, they add more features and options, which in many cases, can cause some software anxiety. You need quick access to the tools that you will use the most. Cluttering up an interface makes it challenging to interact with the material quickly and becomes a frustration over time. MVW is currently clutter free!
The desktop tool gives you access to the OS desktop. Once selected, you can interact with your desktop OS and use the pen tools. Once on the Windows desktop, you can interact with your Windows interface normally. To use the floating toolbar, you can select the pen tool, which extends the toolbar to include all the main toolbar functions. You are still in MVW, but you can now interact with your Windows desktop in normal mode or use the various tools available to annotate or present widgets to the desktop via the toolbar. You could open your browser, navigate to a frequently used resource, and interact and markup the page as you teach. You can then easily take a screenshot and share it on your open canvas (see image below). Since adopting this software, MVW is always running on my computer regardless of what function or software I use. If I'm using another piece of software, I can capture my thoughts, and if I create something that needs to be shared as part of a lesson, I can capture the content to the MVW desktop. The software is seamless.
Another option is using the Screen Recorder tool to record your actions on a web resource. For an activity that requires multiple steps, recording a video and audio helps students to follow your instructions carefully (see image below). This could also include a live-streaming video. Regardless of your audience or intention, you can make it easy for your students to follow your instructions flawlessly. This also ensures that you are meeting the diverse needs of your students.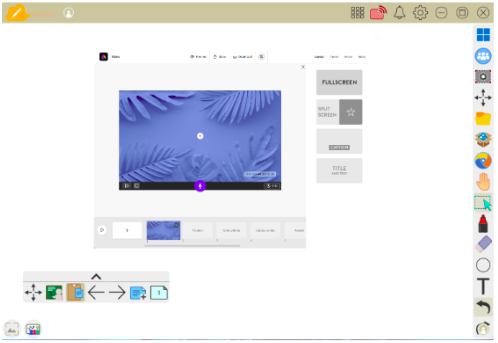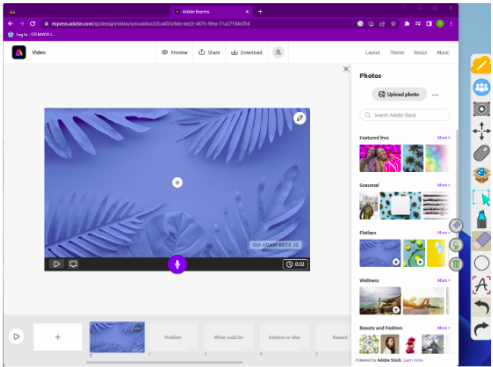 Every object you place on the canvas becomes an image you can now manipulate. Selecting the image brings up a context sensitive menu. This menu allows you to remove the image, lock the image, lock and move the image, spin the image, create a fading animation, and provide a link to a file, MVW page, or URL. You can also copy and cut the image, drag to copy, layer the image, flip or mirror the image, Save as, remove colour, crop the image, fill to screen or save the image as a background.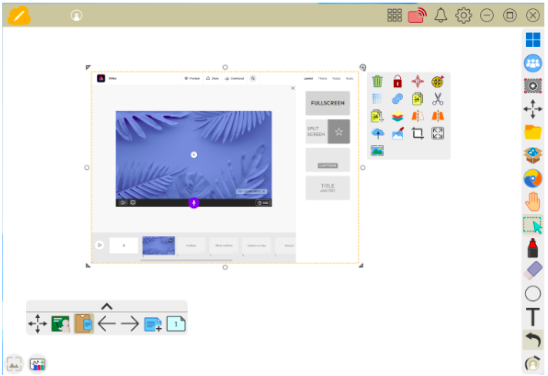 There are a couple of notable features worth mentioning. For example, the AI Pen, which automatically converts freehand lines into standard shapes or text, enhances presentation aesthetics and efficiency, saving valuable time for educators. I can't begin to tell you how often I wanted to draw a quick visual on an interactive panel only to be left with some unreasonable facsimile of what I was attempting to draw. By using the AI Pen, you have instant access to quick art. This hastens the process of ad hoc lessons but also helps you design lessons quickly for use later.
The Background Management feature lets you personalize your canvas backgrounds, improving visual appeal and functionality. This is available in other interactive panel software programs, but I don't think I've seen a background manager as extensive as MVW. You can add any background from the originals available on your online portal or your background. Many background images are suited for education, and you have many to choose from!
MyViewBoard Whiteboard (MVW) software provides file conversion options for various digital formats and solutions, and you can import large Google files. To access this service, log in to your online portal (link below) and choose 'File Conversion Request.' This functionality allows you to upload files from several platforms, such as Promethean Activinspire, SMART Notebook, earlier versions of ViewBoard, and EastNote3.
MVW utilizes a file extension known as Open Learning Format (OLF). OLF is an open-standard, non-linear learning tool compatible with any device. This service will convert all your files to this open and versatile format. The open format holds several significant advantages. It enables interoperability, allowing seamless work across different platforms. Open formats are not company-specific, guaranteeing longevity and universal accessibility. These formats are thoroughly documented, meaning anyone can understand and use them. Furthermore, open formats are free of licensing fees, promoting innovation by allowing developers to create their applications and tools for managing these files. Moreover, it's an extensible file format that works on Windows, macOS, iOS, Android, and the web. It fully supports all existing media file types and objects and is future-proofed against AR, VR, MR, and beyond.
For a non-linear approach to teaching and learning, the OLF file format is ideal. The OLF format is designed to set a new standard for what is expected of digital whiteboarding. It allows educators to prepare faster, present better, and encourage more participation. It supports full media, creates a sequence of endless whiteboarding spaces, and is portable, making it easy to move from device to device within a network and share with others. As I will continue to point out, MVW works more seamlessly and naturally in the educational context. The move to the OLF file format supports the kind of teaching that happens in the modern classroom.

The Screen Capture tool caters to the rising demand for remote learning by enabling live streaming. The software provides guidance on session sharing, promotes student participation, and includes password protection for secure sessions. This tool is complemented by the myViewBoard Companion app, available on the App Store or Google Play. This app brings MVW features to mobile devices, ensuring continuity in teaching and learning. It also promotes collaborative learning with features like Pop Quiz, Polls, and Throw, designed to encourage active participation and provide immediate feedback.
Security remains a significant concern in the educational sector, especially with the increase in remote learning, and MVW provides a solution by prioritizing secure sessions. It employs password protection, offering a secure learning environment that assuages security concerns. Additionally, the software offers comprehensive resources and robust support to troubleshoot any issues. This feature aids in maximizing the software's potential benefits for educators, providing an all-encompassing solution to any problem.
MVW's utility isn't restricted to traditional classroom settings. Rather, it shines brightly in the burgeoning field of remote learning. The software suite has functionalities tailored to suit various teaching methodologies, effective in physical and virtual classrooms. For instance, the Infinite Canvas tool fosters creativity and free thinking, extending its benefits to educators and students, regardless of the setting. Similarly, the Wireless Presentation tool creates a dynamic learning environment that engages students, whether in-person or online.
Expanding MVW's versatility, the myViewBoard Companion app ensures the continuity of teaching and learning, irrespective of the educator's or student's location. Further enhancing MVW's potential, features such as Background Management and file import capabilities are included. These not only enhance the visual appeal but also provide educators with the opportunity to diversify their teaching materials. As a presenter using the myViewBoard Companion app, you can scan a QR code to log in to your presentation or lesson. You can also interact with the audience via the Companion app as well. Students can use the app to throw images, drawings, or media files to the myViewBoard canvas with a simple flick. The Pop Quiz tool allows the teacher to get live feedback using quick questions for quick answers using the MVW.
In a time when remote learning is becoming increasingly prevalent, MVW's Screen Capture tool stands out. This feature allows for the live-streaming of lessons, making it invaluable. Additionally, the option to record these live-streamed sessions for future reference increases its appeal.
To summarize, MVW's focus on security, combined with its robust support resources, emphasizes its commitment to delivering a comprehensive, user-friendly solution for education. The password-protected sessions and extensive support resources provide a safe and secure learning environment, enabling users to navigate the platform effectively. The MVW software suite thus presents itself as a revolutionary tool in the education sector, effortlessly adapting to various teaching methods and learning environments with efficiency and ease.
MVW is an all-encompassing digital solution for any interactive display, boasting unique features scarcely found in similar interactive display software. Its strengths lie in its broad adaptability across different devices and operating systems, user-friendly customization options, intuitive interface, and the unique "Magic Box" feature. With customizable backgrounds, support for a wide range of file formats, live streaming capabilities, and robust sharing options, educators have an exceptional suite of in-person and remote teaching tools.
In the growing digital educational landscape, resources like MVW are indispensable. Its blend of unique features, seamless usability, smooth integration with other platforms, effective collaborative learning tools, robust security, and extensive support systems make it an exceptional choice for educators. Regardless of the teaching environment, MVW is a tool that can enrich pedagogical methods and actively engage students. It is certainly worth exploring.
To summarize, MVW shines as an inclusive and adaptable digital interactive display solution. Its straightforward operation, symbiosis with other platforms, collaboration-enhancing tools, security measures, and ample support make it an outstanding option for educators. Whether instruction occurs in a brick-and-mortar classroom or online, MVW can amplify teaching strategies and student engagement. In addition, its extensive customization capabilities, platform-agnostic design, interactive learning tools, and cloud integration significantly enhance its attractiveness. Therefore, I wholeheartedly recommend MVW to all educators seeking a versatile and powerful digital interactive display software solution.