We all remember that one teacher who inspired us, motivated us to achieve, supported us as we made sense of the world, and who fueled our curiosity and gave us the knowledge and skills we needed to find our own answers. Research shows that teacher education is the number one variable to improving student achievement, and York's commitment to education and teachers extends beyond the undergrad and post grad experience.
To continue to be relevant to education professionals, the Faculty of Education's Professional Learning unit has renewed its approach to professional learning. Our new approach offers teachers from across Ontario the opportunity to engage in ongoing quality learning to support their specific professional goals and to improve learning outcomes for their students by choosing from a wide range of professional learning options. Delivering unique, innovative and intensive learning experiences that are flexible, timely and topical, and preparing people for the real life demands of the profession is a key goal of the renewed program.
Education professionals can now choose from professional learning modules (25 hour, certificated programs) to Ontario College of Teachers Additional Qualification (AQ) accredited learning to leadership programs geared for existing leaders and aspiring leaders.   These learning programs are online or face-to-face, offered continuously throughout the year, and may be customized to meet local needs. Yes, we customize too. You define the need, the program design, the delivery option, the location and York U will provide the learning opportunity, the reporting and the accreditation or certification. Our customized AQ program is used widely across the Greater Toronto Area and can be extended across the province. Our special professional learning module programs are available for all education professionals regardless of location.
"We are excited to offer our new professional learning program" said Janet Murphy, Director of Professional Learning Programs in the Faculty of Education. "We are listening to what educators have to say about their professional learning needs as we strive to address their needs through a vibrant, relevant and rigorous program."
Check out York's Professional Learning website to learn more about the program and choose your next learning experience. Visit http://edu.yorku.ca/profdev/
—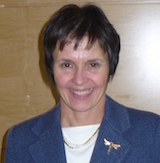 Janet Murphy is Director of Research, Community and Professional Learning Programs at York University