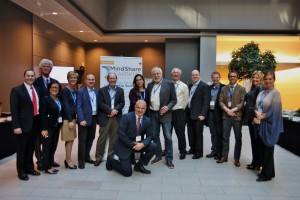 Our recent 5th annual Canadian EdTech Leadership Summit reminded me of the importance of the human connection and the interconnectedness that is essential to moving our country forward in the digital revolution that is upon us. The conversations were rich, engaging and insightful. Kicking off our Summit was Johannes Heinlein, VP partnership for EdX from Harvard. The notion of Open Learning is gaining tremendous momentum and cannot be ignored.
Despite an intense day of presentations, round tables, it ended on a high note with Nolan Bushnell's closing keynote. What resonated from Bushnell's talk most, the three characteristics that will define success for tomorrow: ENTHUSIASM, CREATIVITY and OPTIMISM. Lunching with Bushnell was fascinating as we discussed family, Atari, Steve Jobs, entrepreneurship and the future generation; for me it was the icing on the cake to have bonded with Bushnell. To think a chance encounter at SXSWedu this past March would lead to have him join us at our Summit. We all have special gifts. I'm told I'm a 'bridge builder.'   Special thanks to our sponsors, volunteers and Nancy Veloso from our team who contributed greatly to our success!
Please check out our Storifyed conference link for further highlights. On to planning for 2015!