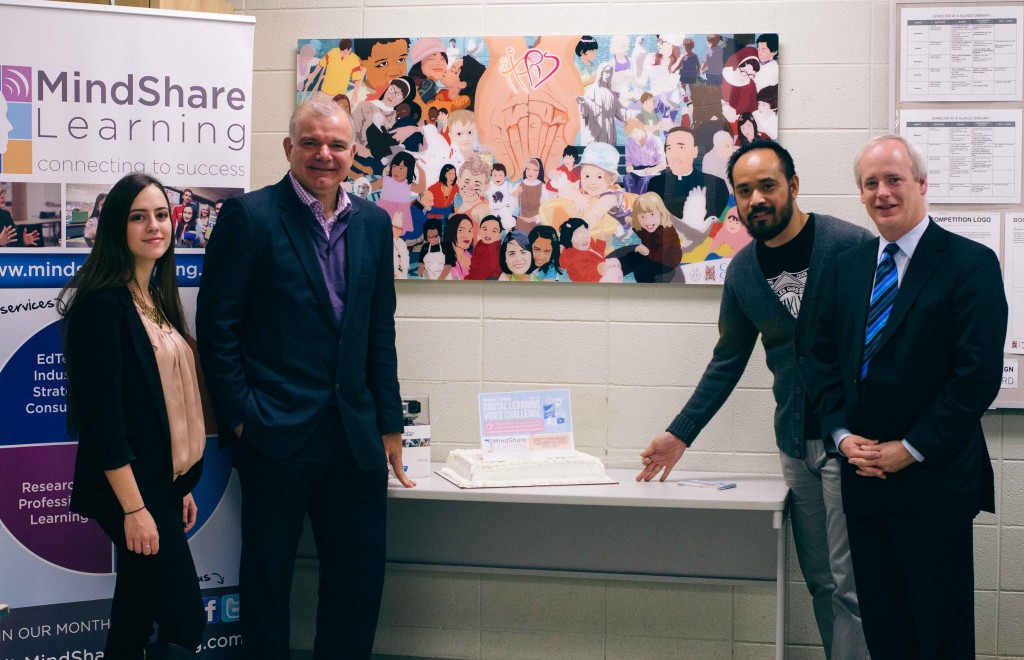 Contest Kickoff at St. Elizabeth Catholic High School. Pictured (L-R) Nancy Veloso, Robert Martellacci, MindShare Learning; Fred Galang, last year's contest winner, and Principal John Heinrich
TORONTO, ON, December 2, 2014 — MindShare Learning officially launched their7th Annual Digital Learning Video Challenge on Wednesday, November 19, 2014, at St. Elizabeth Catholic High Schoolin Thornhill, Ontario.
"My students and I are honoured to be recognized by Mindshare Learning for our efforts in deepening our creativity using emergent technologies in our classroom," said Fred Galang, teacher at St. Elizabeth's Catholic High School.
"This year's theme is focused on engaging students to share their 21st century innovative projects," said Robert Martellacci, President and Publisher of MindShare Learning. "Engaging both teachers and students to create awesome projects is the challenge that we've presented this year to inspire excellence in teacher innovations across Canada.
The 7th annual contest challenges Canadian teachers to create and upload a two to four minute video showing how their 21st century teaching practices, using technology, have played a vital role in engaging and motivating their students in the classroom.
Submissions will be accepted until midnight EST on Saturday, January 31st, 2015.
The official announcement of the three 2014/15 grand prize winners will be shared in the March edition of the MindShare Learning Report. Winners will receive fabulous classroom technology prize package valued at over $50, 000.00 for their school.
About the MindShare Learning
MindShare Learning is Canada's leading EdTech industry consulting, news and events media company. MindShare counsels education and industry leaders in understanding the emerging needs of learners to succeed in the 21st Century global knowledge-based digital economy to support student success.
For more information, please contact Robert Martellacci via email at robert@mindsharelearning.com, call (416) 569-2106 or visit www.mindsharelearning.ca/videochallenge/2014-15.
— 30 —