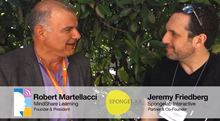 MindShare Learning Moment with Dr. Jeremy Friedberg of Spongelab at ISTE 2013.
Click here to watch!
Dear Thought Leader,
Wow! How fast is the summer slipping by? I hope you're enjoying some down time with family and friends. All we could muster up for a summer vacation was a quick trip to Boston for my twin's College hockey showcase. Apparently missing training for more than a week was not an option; I love their passion and we're doing our best to nurture it as parents.
This is a key planning time for us as we ramp up for our Back2School issue and program plans along with our valued partners.  Watch for details on our 6th annual Canadian Digital Classroom Challenge!
While I'm pleased to share our Top10 news stories of the summer, looking ahead, I'm thrilled to share plans for our 4th Annual MSL Canadian EdTech Leadership Summit. This year we're taking a bold step in partnering with MaRs to offer an expanded location. Our keynote headliner is Ron Reed, Executive Producer, SXSWEdu.  With the digital landscape changing so rapidly, BEYOND POCKETS OF INNOVATION, is the theme of this year's Summit. Registration is now open! Click here to learn more.
Please be sure to share your success stories and upcoming events with us as we're happy to amplify your message!
Until next time, keep the learning curve steep!

Follow us on Twitter @MindShareLearn
Robert Martellacci
M.A. EdTech
Publisher & Managing Editor, The MindShare Learning Report™
President, MindShare Learning™
Connecting Education & Business to Support Student Success
P.S.  New corporate partners are welcome! It's not too late to join us! Drop me a note.
1. Canadian Education Systems Perform Well in New International Report
CMEC 25.06.13
A new international report from OECD identifies Canada as one of the most well-educated countries in the world and offers compelling evidence for the value of postsecondary education in the face of ongoing economic uncertainty and increasing global competition for skilled labour.
2. An Avalanche is Coming: Higher Education and the Revolution Ahead
IPPR North
This wide-ranging essay aims to provoke creative dialogue and challenge complacency in our traditional higher education institutions.
'Just as globalisation and technology have transformed other huge sectors of the economy in the past 20 years, in the next 20 years universities face transformation.' Read more.
3. Infographic: A Guide to Canadian Education #Hashtags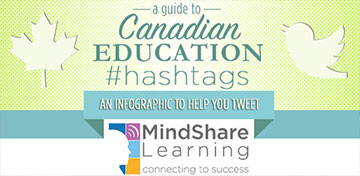 4. A MindShare Learning moment with Alan November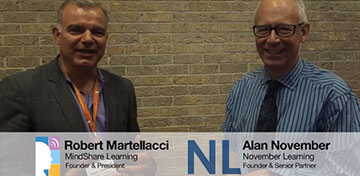 "Who Owns the Learning" – MindSharing with Global EdTech Leader Alan November at ISTE13
5. StatsCan National Household Survey Data on Education
StatsCan 25.06.13
The 2011 National Household Survey data on education were released today. These data illustrate findings about the educational characteristics of people in Canada.
6. SIIA 2013 Vision K-20 Survey Results: U.S. Schools and Universities Express Continued Interest and Desire to Expand Use of Technology
SIIA 06.25.13
The Software & Information Industry Association (SIIA) today released the full report from the 2013 Vision K-20 Survey, its sixth annual national survey to measure U.S. educational institutions' self-reported progress toward building a framework that embraces technology and e-learning.
7. Samsung School at Advanced Education
ADVANCED Education
Samsung and Advanced Education have teamed-up to offer the revolutionary Samsung School solution across Canada.
8. A MindShare Learning Moment with Karen Billings, SIIA Education Vice-President at ISTE13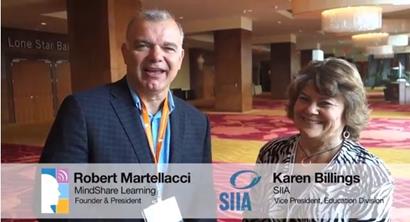 Vision K20 Survey Conversation with Karen Billings, SIIA Education Vice-President at ISTE13
9. Teq- NAO Robot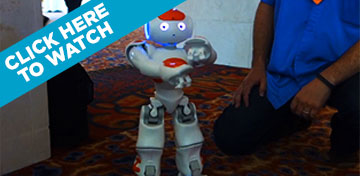 This year's Most Valuable Player at ISTE 2013 was, without a doubt,Teq's NAO Robot. This nifty little guy (also available as a nifty little gal) is fully programable for levels across K-12. Interested in teaching your students how to program? Consider looking into this amazing piece of tech, paired with a SMARTboard, to get students of all ages programming! Check out the NAO Robot performing 'Gangnam Style' at ISTE 2013 in San Antonio below!
10. Natural Learning a 21st Century Synthesis
Mitchel N. Townsend, a Pepperdine MA EdTech alum, shared an intriguing learning theory paper inspired by his EdD studies at UofC,Natural Learning a 21st Century Synthesis.