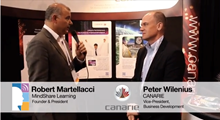 Interview with Peter Wilenius, Vice-President, Business Development at CANARIE, from Canada 3.0 Conference
Dear Thought Leader,
I'm pleased to share our Top 10 news stories of this month with you. Watch for the next month's Professional Learning Summer Edition that includes the first Mindshare Guide to Canadian Eduction #Hashtags. We're also thrilled to be launching our 2nd Annual Canadian Blogger Awards in this issue.
With June coming to a close, we're off to the International Society for Technology in Education (ISTE) conference in San Antonio, where we'll be celebrating our 10th Anniversary at our Can/Am Celebration of Excellence reception. Watch for conference highlights via our twitter hashtags!
In closing, best of luck to our K12 colleagues as you wrap-up the school year. Be sure to share this past year's success stories with us!!!
Until next time, keep the learning curve steep!


Robert Martellacci, M.A. EdTech
President & Publisher
MindShare Learning
P.S.
Teachers have your say in our 2nd Annual EdTech Survey. Click hereto complete the survey. Please don't hesitate to share with your colleagues.
1. A Snapshot of K-12 BYOD Program
A snapshot of K–12 BYOD program implementation in 14 publicly funded school districts across Canada.
Pearson School Canada
2. Interview with Diane Williamson at Canada 3.0
A MindShare Learning Moment with Diane Williamson from REAP: Research Entrepreneurs Accelerating Prosperity at
Canada 3.0
3. Vancouver School District Drafts Social Media Policy
Don't post anything on social media that reflects poorly on you or your school district.
That's the main message from the Vancouver school district in proposed guidelines for employees using Facebook, Twitter, Tumblr, etc.
The guidelines, among the first to be developed in such detail by a B.C. school district, are on the agenda for discussion at a meeting Tuesday of the board's education and student services committee.
Read more
Vancouver Sun 05.26.13
4. MindShare Learning at CONNECT 2013
Dive into the CONNECT 2013 experience and look up
#CanEdu13 and @CanConnectEd on Twitter!
5. Government of New Brunswick Awards FrontRow Classroom Audio with Province-Wide Contract of Supply
FrontRow (formerly Phonic Ear) has once again
won the province-wide tender to be the sole provider of classroom audio systems in schools across New Brunswick.
Read more
6. Interviewing Jennifer Corriero, co-founder TakingITglobal
I enjoyed interviewing Jennifer Corriero, co-founder TakingITglobal at the SCDSB Learning With Technology Conference: Parents and Teachers Working Together.
7. Zoe Branigan-Pipe – Winner of Microsoft Canada's Virtual Innovative Educator Forum 2013
Zoe Branigan-Pipe is a Gifted Special Education teacher at Dalewood School in Hamilton Wentworth School district.  She is also a fourth generation teacher who attributes her success to the likes of her mother and grandmother.  Zoe is a 21st century teacher who believes in using the most current tools to access information and in particular to using tools to network and collaborate beyond her classroom walls. It was her passion and commitment to inquiry and social justice issues that resulted in Zoe winning Microsoft Canada's Virtual Innovative Educator Forum 2013.
Read more
Microsoft Partners in Learning 05.30.13
8.CONNECT 2013 – Doodle by Giulia Forsythe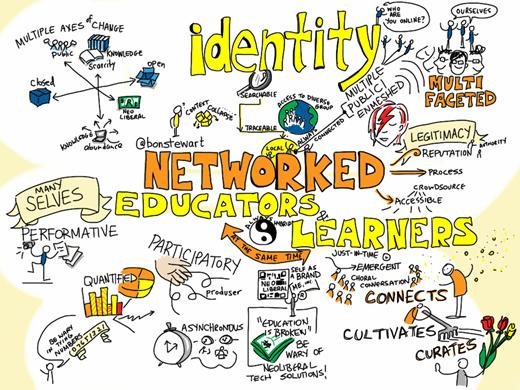 This amazing doodle by Giulia Forsythe (@giuliaforsythe) depicts Bonnie Stewarts (@bonstewart) CONNECT 2013 presentation 'Networked Educators & Leaders' about identity, legitimacy and our many selves online'
9. Education Technology Success Story Edsby Wins $100,000 Startup Prize
Canadian education technology company emerges victorious in Backbone Magazine's 2013 Start Me Up Innovation Campaign.
Hot on the heels of their recent board-wide win in Florida's Hillsborough County Public Schools, Canadian education technology start-up Edsby has much to celebrate this week as the winners of Backbone Magazine's 2013 Start Me Up Innovation Campaign.
Read more
PRWeb 05.10.13
10. ArtsSmarts 21st Century Youth Creativity Challenge (21YCC)