Welcome to Your First Step to Transformation…

Societies in the new millennium are increasingly distinct from those of the 20th century. The rate of change is accelerating, with new discoveries being made at a pace never seen before. A global economy has emerged in which skills in using information and communications technology (ICT) are key drivers of economic competitiveness.[1]
As they head back to school this year, school leaders are being faced with both a challenge and an extraordinary opportunity: the chance to rethink and reinvent education to reflect this broader societal transformation. Students need to be prepared with knowledge and skills that will enable them to succeed in this new digital economy. The required skill set now includes not only foundational knowledge in the traditional disciplines but also skills in problem solving, critical thinking, collaboration and communication.
There are many schools across Canada that have already started down this path. They are cultivating in their students the ability to be adaptive, innovative lifelong learners. They are personalizing learning and developing relevant curriculum that affords opportunities for authentic problem solving, collaboration and independent learning. However, establishing this type of 21st century learning environment is not an easy feat. Change this important requires a clear vision for school, board or district transformation; thoughtful integration of technology into pedagogy; and deep support from teachers, administrators and community partners.
To help education leaders navigate and fast track their transformation, Microsoft partnered with leading academics to develop the Education Transformation Framework: a pathway to holistic education transformation that summarizes decades of quality research into 10 critical components.
Every month, the Education Transformation Corner of the MindShare Learning Report will detail one of these 10 components. Reading this article is your first step to transformation. If you're ready to take all 10 steps, follow this section every month as we take you along the pathway and provide the resources you need to bring your vision for anytime, anywhere learning to life.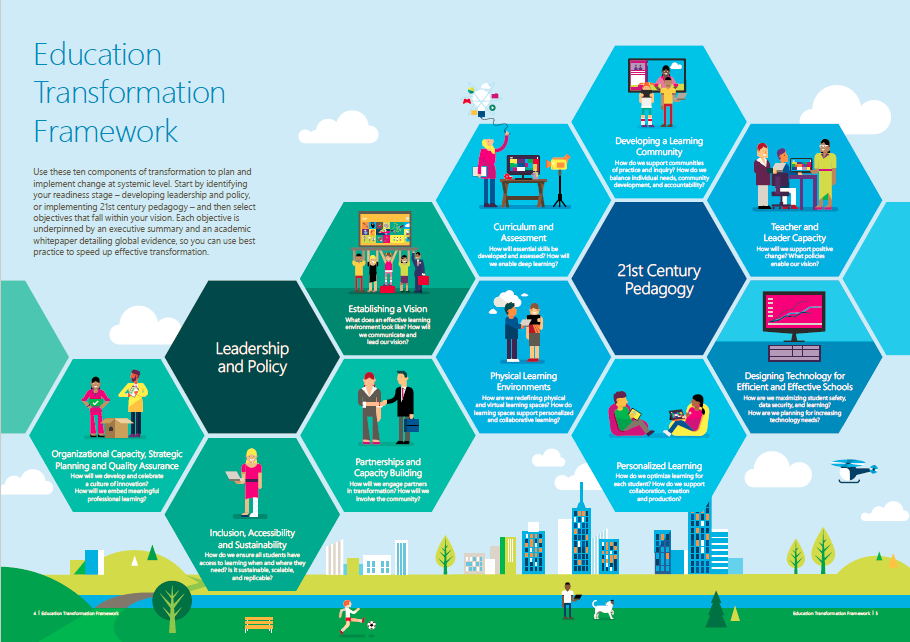 [1] Examples of these changes and their implications are discussed in Friedman, 2005; National Academy of Engineering, 2004; National Commission on Community Colleges, 2008; Fullan, 2007; Bransford, Stipek, Vye, Gomez and Lam, 2009; Partners in Learning, 2005.