Is the Digital Divide Impacting the Skills and Employment Gap Amongst Our Youth?
By Robert Martellacci, Co-founder and Vice-president, C21 Canada
It was a fascinating opportunity to participate in the People for Education: Digital Learning in Ontario Schools– The New Normal news conference yesterday at Queen Elizabeth P.S. in the TDSB. One of the highlights of the morning was observing grade 4 students highly engaged in small teams collaborating with technology; blogging, creating websites and programming Lego Robotics. This is the "New Normal."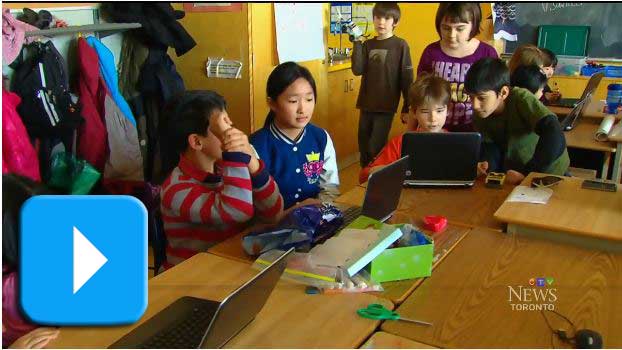 The challenge facing schools in Ontario is scaling Mr. Kiel's grade 4 class beyond the pilot mode and into the mainstream classroom, thus getting beyond pockets of innovation. While the study acknowledges greater access to technology and free digital resources, Ontario has yet to announce its long awaited digital strategy framework which may be in part due to the rumoured provincial election.  In the meantime, school districts face the challenge of addressing the equity issue around technology access for students and teachers. BYOD (Bring Your Own Device) policies should help address this, however, a clear and concise vision from the Ontario Ministry of Education backed up with the infusion of funding will be most welcomed by parents, students and teachers alike.  Industry also has a role to play in forging strategic partnerships with education when it comes to providing cost-effective and appropriate digital resources and tools.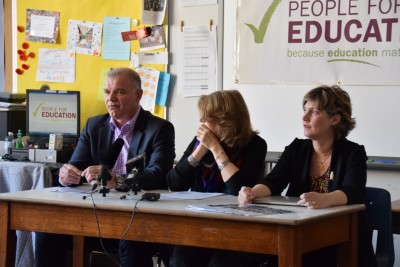 (Left to Right) Robert Martellacci, Vice-president & Co-Founder C21 Canada, Annie Kidder, Executive Director, People for Education, Kelly Gallagher-Mackay, Research Director, People for Education
Kudos to People for Education for illuminating the "New Normal" in public education in Ontario. Innovation is no longer an option in preparing Ontario's learners and future leaders for the 21st century global digital world. The education ecosystem needs to be nurtured by all to stakeholders to level the playing field with technology enhanced learning in order for Ontario to be a global leader and strive for excellence. It takes a connected digital village to raise a child in the 21st century.