Dear Thought Leader,
It's great to be back from an inspiring P21 Summit in D.C that I attended with my C21 Canada colleague, David Roberts. I am delighted to share that there were several presenter references made about some of the provincial education systems in Canada as being models of excellence.
This week marks Bullying Awareness Week which speaks to 21st century learning, digital citizenship and the importance of teachers and parents doing their part in addressing this very important issue with your students and children. There are some excellent resources available via PrevNet.
We're thrilled to have partnered once again with two excellent professional organizations, SIIA and their Education Business Forum, December 10-11 in NYC and with the folks hosting theFlorida Education Technology conference (FETC), January 28-31in a much BIGGER way this year. Click on the ads below to enjoy a special discount as a delegate.
Watch for next month's spotlight on the northern Territories with a focus on two hot trends: mobile and blended learning.
Time is running out for teachers to submit your awesome 21st century inspiring classroom videos in our 6th Annual video challenge. Be sure to share your story and engage your students! Win fabulous prizes!
Until next time, keep the learning curve steep!

Follow us on Twitter @MindShareLearn
Robert Martellacci
M.A. EdTech
Publisher & Managing Editor, The MindShare Learning Report™
President, MindShare Learning™
Connecting Education & Business to Support Student Success
P.S. Thanks again to our friends and colleagues for all your great comments about our recent EdTech Leadership Summit. Watch for part II of our coverage in our December issue.
1. Interview with the Honourable Jeff Johnson, Alberta Minister of Education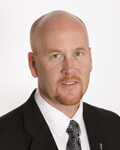 Exclusive Podcast Interview with the Honourable Jeff Johnson, Alberta Minister of Education on 21st century learning, transformation and innovation in Alberta Education.
2. MindShare Learning's 2nd Annual EdTech Teacher Survey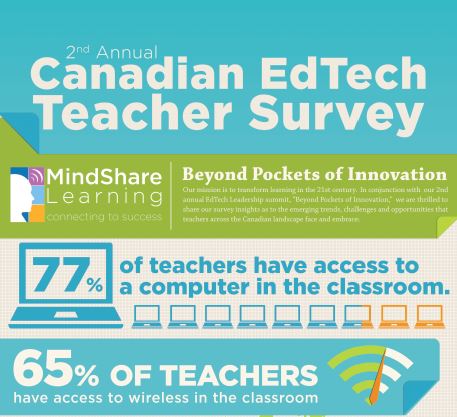 This month we feature our 2nd Annual EdTech Teacher Survey that was released yesterday at our EdTech Summit.The survey was inspired by our desire to push the 21st century envelope and get beyond pockets of innovation across the Canadian landscape in support of student success. We'll be announcing the winner of the Dell tablet next month. Thank you to all the Canadian teachers' who participated in this very important study. Special thanks to York University IRLT and McGill LEADS research project for their support.
3. 4th Annual MindShare Learning Canadian EdTech Leadership Summit (Part 1)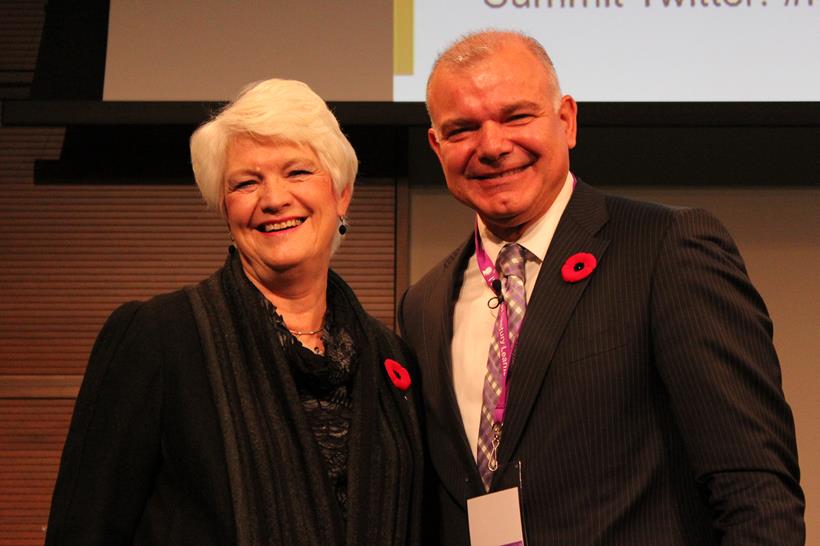 Pictured left to right: Liz Sandals, Ontario Minister of Education and Robert Martellacci, Chair of the 4th Annual MindShare Learning Canadian Edtech Leadership Summit.
21st Century Spotlight–4th Annual MindShare Learning Canadian EdTech Leadership Summit: "Beyond Pocket of Innovation" at MaRS Discovery District Hightlights
(Part 1):
Pictured left to right: Liz Sandals, Ontario Minister of Education and Robert Martellacci, Chair of the 4th Annual MindShare Learning Canadian Edtech Leadership Summit.
Publishing is hard work. It's even more challenging the day after hosting our annual Summit. Hence,  I'm running on the adrenaline and the inspiration I gleaned from connecting and engaging in amazing presentations from an eclectic group of passionate education and industry leaders. Perhaps this tweet captures the essence of what separated the Summit from others,  "#mslsummit13 is 1 of the more interesting ed events I've attended; audience diversity! Educators, researchers, ceos, policy, startups #edchat" via @heidisiwak
To Heidi's point, what was striking, is the power of collaboration between a diverse group of attendees from across Canada, spanning K-12 and postsecondary panels. What unified us is the passion to make a difference because we care about our future leaders. The conversations were rich and desiring more. Many delegates had never heard of MindShare Learning, or attended an EdTech event. The future is about interconnected learning communities and ecosystems. Watch for part 2 next month as we take a deeper dive into outcomes from our Summit.
4. Five key Things to Consider In Order to Create and Sustain a Whole-School Philosophy of Teaching and Learning with Technology

By: Timothy Gard, TDSB
You've read the literature, you've been to the right conferences and heard the right speakers and you have in your change arsenal the right philosophy and the right spirit to make a difference at your school. The change seems elusive however and you're frustrated by the seemingly small steps your school has taken with regards to teaching and learning with technology. What can you do next? Listed below you'll find five things that you can do to ensure that you use technology as a powerful enhancer of teaching and learning at your school. This is not exhaustive. From these general points you should do further reading and research so that you can ensure that you're properly prepared to utilize these general points of guidance. Further, the key ideas below assume strong, strategic leadership from teacher-leaders and administrators who are life-long learners. No room for the weary or faint of heart if you want to transform your school!
5. Newly Elected Trustee Mary Martin Chosen to Lead Calgary Catholic School District
Calgary Sun 23.10.13
Calgary Catholic School District trustee Mary Martin will return to her role as board chair.
The Calgary Catholic School District officially welcomed its newly elected board of trustees Wednesday during the oath of office ceremony held at a public meeting.
6. Where to Work in Education
Huffington Post 01.10.13
There are many jobs to choose from within education, and a deep need for excellent people in all types of roles and at all types of organizations. I work in education entrepreneurship because it matches my work style, which centers around putting order to chaos, ideating and creating. You could have very different preferences. This guide to the (not always simple) landscape of education careers should help you navigate the field and find the place where you fit best.
7. Interview with Bill MacKenzie, ECOO President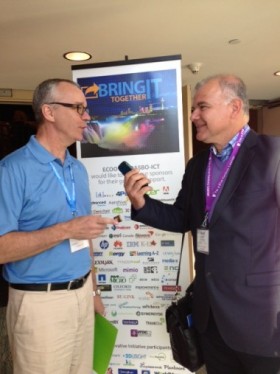 Bill MacKenzie is now the past ECOO president and currently a consultant at the Upper Grand District School Board, he is responsible for developing strategic plans for IT integration.
8. New Study Reveals Most Important Skills for Students
Microsoft Canada Release 22.10.13
Top candidates for current and future jobs will be measured by capabilities and competencies, with 20 distinct skills bubbling up to the top in millions of high-growth, high-paying job postings, according to a white paper commissioned by Microsoft Corp. and released by IDC. The study provides insight into the skills students need for the top 60 high-growth, high-wage occupations that will account for 11.5 million new hires and 28 percent of job growth by 2020. Out of those skills, oral and written communication, detail orientation, and Microsoft Office proficiency top the list.
9. Intel Says Get Ready for $99 Tablets, $299 Haswell Notebooks, $349 2-in-1 Hybrids
ZDNet 16.10.13
Hoping for some tech bargains for the holidays? Yes? Then read on, as Intel has some good news for you.
Intel chief executive Brian Krzanich says that he expects OEMs to push prices down over the coming weeks, and that this will result in $99 tablets, $299 Haswell laptops, and $349 2-in-1 hybrid tablets and notebooks.
10. Why there is a growing 'talent gap' in Canada
Globe and Mail 18.10.13
There are some 'worrying trends' in Canada regarding the skills in demand compared to the skills workers have, says Alistair Cox, CEO of recruiting firm Hays.