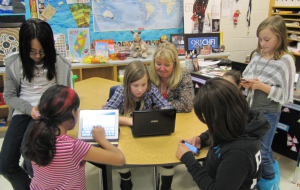 Our first winner, Mali Bickley from Fieldcrest Elementary School in Bradford, Ontario, sent us a video that demonstrates her continued use of technology in the classroom. Here is what she had to say:
It's hard to believe that five years has gone by since the first Mindshare Learning 21st Century Challenge contest was held. I have always considered it to be an honour to be the first recipient of the Mindshare Contest. So many amazing opportunities and connections have opened up that have benefited my students and professional growth. So much has happened in those five years in the Ed Tech world, but the one thing that I believe has remained consistent is that integrating technology into classroom programs. Technology enabled learning has challenged not only students to learn in engaging ways, but teachers to become co-learners in this constantly changing educational landscape. I am so proud to be part of a learning community that connects to support each other in their journeys, learn together but most importantly, connects students to communicate, collaborate, share and create together. I encourage all teachers who embrace technology to enter the Mindshare Learning 21st Century Challenge to take time to reflect on their teaching, celebrate and document the incredible learning  that happens each and every day in Canadian classrooms. Please share your stories and inspire others to be part of this incredible educational journey.
Only ten days left to submit your video for a chance to win classroom technology prizes. Full contest details, including how to enter and regulations, can be found here. The deadline is December 14, 2012 at midnight EST.