With the school year winding down we're busy planning for back to school and our MindShare Learning website refresh. Catch a sneak peak by clicking here. We welcome your candid feedback as to whether the new site better serves your needs and what improvements you might suggest?
3rd Annual Canadian Consulate- MindShare Learning Can/Am Partnering reception at ISTE 2011. We're proud to co-host the Canadian Consulate-MindShare Learning Can/Am Partnering reception @ISTE 2011 on June 28 in Philadelphia. It is by invitation, so please let me know if you're going to ISTE and interested in attending? We'll be honouring our national 21st Century Video Contest winners for 2011.
Speaking of excellence, I would be remised if I didn't recognize the excellence in teaching winners across Canada that offer Premier's Awards. The following are links to various provinces and territories offering provincial teaching awards that we discovered: Ontario, Alberta and New Brunswick. Shouldn't every province be celebrating their excellent teachers?
Amazing industry milestones–Congrats to SMART Technologies who recently announced they Installed their Two Millionth SMART Board (TM) Interactive Whiteboard.
One of the best loved "FREE" web 2.0 tools in education – Skype was recently acquired by Microsoft. I'm optimistic that Microsoft will be mindful of how well it's been embedded in education and continue to enhance this highly engaging 21st Century tool for teaching.
MindShare Learning Network of Innovative Schools Pilot opportunities! As part of the MindShare Learning Network, we're always searching for innovative schools to participate in pilot opportunities with some of the leading software and hardware solution providers spanning the globe. Please provide with us with a 250 word written expression of interest along with a description of your innovative school.
All chocked up? I'm hearing from several school districts that bandwidth is at a premium and networks are often running slow. This is concerning with the move by many software providers to cloud computing. Please share your experiences with us and how your school district is overcoming latency issues? We'll be conducting an investigative report in a future issue of the MSL Report.
Blazing the 21st Century Trail of Learning: Great to see the Canadian School Boards Association take a leadership role in 21st Century Learning with some great resources.
I enjoyed catching up with fellow Canada Ron Fitzgerald, president, Math Resources Inc. in San Francisco while at SIIA recently.  A long-time software industry player from Nova Scotia, they have excelled in the math resources space.
Back to the future! MindShare's good friend Peter Skillen shares a blog article he previously wrote yet is dangerously relevant (in a good way of course) today HIDDEN – a project that worked – The project centered around empowering youth incorporates Adobe Voices and iEarn. Be sure to checkout the link to Peter's blog article here. Thanks for sharing Peter!
We always encourage and appreciate sharing amongst educators across Canada. Thanks to Prime Minister Award winning, Neil Stephenson of the Calgary Science School for sharing the amazing resources available on their school website…checkout the followinglink, follow Neil on twitter: @neilstephenson
Casting An Open Net is the first comprehensive report that establishes the need for the principle of openness to guide digital policy in Canada. Read the report. Have your say!
On the international stage, MindShare colleague, Peter Schneider, managing director of ict Maven checked in to share that he recently returned from presenting in the Middle East.  He says investment in education was evident in Dubai, UAE, at GESS (Gulf Educational Supplies & Solutions) coupled with GEF (Global Education Forum). In early May nearly 5,000 education professionals and senior decision makers participated in professional development sessions and an exhibition hosting 235 vendors from more than 30 countries.  The 3 days were filled with a unique blend of innovative teaching and learning practice and resources from all corners of the globe.
The governments in the region are not only interested in the latest resources for schools they are also investing in a sustainable infrastructure to support education.  Peter was invited to speak about national digital content infrastructures, personal learning networks, and sustainable support for innovation.   You can find his presentations by clicking here.
We look forward to our continued collaborations with you. Until, next time, walk the digital talk! Cheers,
R.M.
Canada moves one step closer to forming a P21 Canada organization.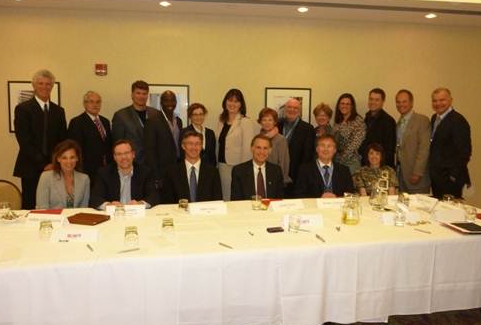 MindShare Learning's Robert Martellacci co-chaired a recent education industry meeting along with
John Kershaw, former deputy minister of education in New Brunswick to explore
further the potential for a national P21 Canada organization.
Product News
Epson Announces the new PowerLite X9 Projector – Sharp presentations at an affordable price.
Value-priced and easy to use, the PowerLite X9 produces crisp, bright presentations in the classroom or conference room. 2500 lumens of colour and 2500 lumens of white light output, combined with native XGA resolution, deliver attention-grabbing detail, at a surprisingly affordable price.
Learn more
New Promotion – Epson AP-60 Projector Sound Solution,  Buy 6 Get 1 Free!
Enhance your classrooms with sound that reaches all students whether in the front or the back.
With the Epson AP-60, it's easy to enhance the learning experience. This affordable projector sound solution offers everything you need to captivate any audience. With four speakers and 60 W of sound (30 W x 2 channels), it's ideal for virtually any classroom.
Learn more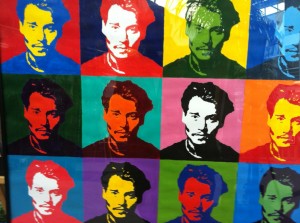 Johnny Depp depicted in Warhol-esque student artwork from the District School Board of Niagara