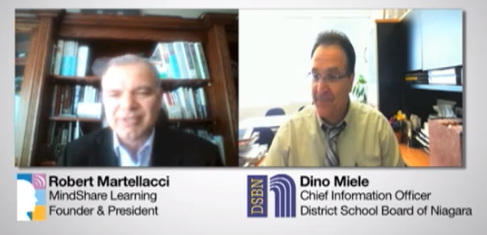 What to expect at Connect 2013! A video chat with Dino Miele, Chief Information Officer for District School Board of Niagara
Dear Thought Leader,
We're thrilled to share this month's Top 10 news stories!  With less than three weeks until Connect 2013, I encourage you check out my video chat with Dino Miele, CIO, District School Board of Niagara, to gain insight into what the Connect 2013 experience holds for you.  As a proud founding partner of Canada's first ever Learning & Technology K20 conference, May 6-7, Niagara Falls Canada, we hope you take advantage of this amazing professional learning opportunity! Don't delay as the early bird registration ends today!
One of the highlights of Connect 2013 will be a live webinar — "K12 CIO Webinar: How New Technology Choices are Impacting BYOD and 1:1 Deployments." Click here to register for the online webinar.
As always, we appreciate receiving your news tips and insights on the latest happenings in the Canadian EdTech space. See you in Niagara!
Until next time, keep the learning curve steep!

Robert Martellacci, M.A. EdTech
President & Publisher
MindShare Learning
1. Feature Interview with Susanne Lajoie, Professor at McGill University
MindShare Learning gets a first-hand look at the $2.5 million grant received by Susanne Lajoie for developing and assessing teaching tools for the techie generation! Click here to listen.
2. A review for 'The Leader's Guide to 21st Century Education'
Take a look here  for a review by Tim Gard on 'The Leader's Guide to 21st Century Education' – 7 Steps for Schools and Districts by Ken Kay & Valerie Greenhill.
3. Hillsborough County Public Schools Selects Edsby Gradebook for District-Wide Deployment
Hillsborough County Public Schools select the Edsby gradebook and social learning platform to provide a district-wide modernization of tools used by teachers to track and share grades, assignments, and class-related information with students and parents. Read more here!
4. Connect 2013

Join us at CONNECT 2013 – Canada's First National Learning & Technology Conference in iconic Niagara Falls. MindShare Learning is proud to partner with DSBN and Brock University's Faculty of Education to host this unique event geared to K12 and post-secondary educators. Register today!
5. MindShare Musings – The Connectors, Leaders, and People on the Move
Take a look at notable innovators and educators transcending and changing the directions in their career and life paths in our MindShare Musings.
 6. Big Ideas at SXSWEdu with Joseph Wilson- MaRs
Joseph Wilson speaks with big ideas at SXSWEdu (http://sxswedu.com/), one of the largest education conferences in the world. Read more here.
7. Device Conundrum
A look at the further developing concept of schools and districts beginning to re-think pedagogy and learning environments by instituting either 1:1 device programs or Bring Your Own Device (BYOD) initiatives.
8. C21- 'Shifting Minds: A Vision and Framework for 21st Century Learning in Canada'
Shifting Minds is a national vision and framework for 21st century models of learning in Canada. Global leaders in education and other sectors of society have identified a number of competencies and skills that are now critical for personal and societal success in the knowledge and digital era.
9. Bringing Space into the Classroom
To celebrate Chris Hadfield's mission to the International Space Station (ISS) and to interest youth in relevant topics related to his mission, Let's Talk Science has launched a unique collaboration with the Canadian Space Agency (CSA) entitled Project Sky Science.
10. Introducing the SMART Room System™ for Microsoft® Lync®
SMART worked directly with Microsoft to develop the turnkey solution for meeting rooms that simplifies the collaboration experience for both virtual and face-to-face participants and provides seamless online collaboration through sharing of real- time video, voice and data.