By Timothy Gard, Educator, Toronto District School Board
@MindShareK12

Overwhelming. In fact, between the venue – The London Excel Centre, host to various 2012 Olympic events – and the 45, 000 people who attended this year's conference, I'm not sure what was more overwhelming. And then there was the excitement in the air, the innovation happening around just about every corner and teachers mulling about with vendors discussing the latest cloud-based technologies that were shaped and formed specifically for education. The Microsoft-sponsored main speaker forum hosted some great talks and discussions around just about every facet of learning and teaching with technology.  In short, the BETT conference is becoming – or already is – the must attend educational technology event in the world.
I'm going to make five observations about this year's BETT show. I'll try to give a bigger picture view of what was happening, however, reading this article will give you only a bird's eye view, so to speak. You have to attend – simple as that.
Cloud-based Learning Technologies
To say that there were several approaches to cloud-based technologies is an understatement. They were ubiquitous. Of course, I could narrow down the definition of what I mean by cloud-based technology but I'm going to give it a broader definition and let you fill in the details. As you would imagine all of the big players were there from Google to Microsoft. Microsoft, however, seemed to be more embedded in various vendors' approaches to cloud-based technologies rather than a full-fledged presence like Google with different talks every half hour about what you can do with Google Docs and every other portion of their HUGE presence. I especially was intrigued by RM Education and RM Unify. According to RM, Unify is your launch Pad to the Cloud – "a single sign-on system, application library and management console designed specifically for education." The great idea about Unify is that everything that you need to use in your classroom, or school is located 'out there' as I like to say. And it's device agnostic; you don't have to have an iPad or Android or a particular OS of any sort as long as you can gain access to the Internet. And the Launch Pad is easy to customize. Single sign-on is so sweet in an age of multiple passwords and user ids.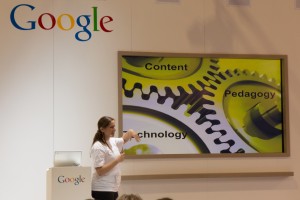 But RM Education wasn't the only learning platform that was huge at the conference. Frog OS which is going to launch in 10,000 schools in Malaysia is one of the largest learning platforms in the world and their presence at BETT was significant, especially when you were inundated with a parade of those colourful bags wondering through the Excel Centre. Frog OS has various incarnations from frog OS for primary to secondary and even international flavours. All of these learning platforms are focused on taking advantage of mobile computing and the ever faster mobile networks that are being deployed around the world. Again, well worth your efforts to explore what they have to offer because they're thinking bigger picture.
eTexts and Reading Devices
Pearson, RM Education, TXTR and several other publishers and independents were showcasing their eText and eReading device wares at BETT. And it wasn't simply about providing electronic texts but providing etexts that were manageable at an individual or class level, easily selected based on reading level and even, in some cases, with the opportunity for students to engage in creating their own etexts. Where this is all going to settle is anyone's guess but there was no shortage of opportunities to invest in a particular etext and ereader ecosystem for your district, school or classroom.
Canadian Technology
If I had to point out one Canadian company that showcased an innovative product I would have to give the nod to Showbie.  Showbie, a company based in Edmonton, has created a web-based platform with iPad app that gives the teacher and students a way to manage documents and various pieces of creative work that have been put together on an iPad. They term it as 'assignment workflow' where students can submit their pictures, video, presentations or work from many different applications onto their Showbie online assignment folder. Teachers have access to this work via the Showbie iPad work and can then provide the needed feedback to the students via annotations or even voicenotes.
Interactive Whiteboard Technologies
SMART was there at BETT in a big way. I had an opportunity to move between their booth and collaborative classroom where they showcased many of their new products using SMART exemplary teachers from around the world, including Ian Fogarty from New Brunswick. Ian is one of the winners of this year's MindShare 21st Century Classroom Video Challenge.
SMART introduced several new products including their finger touch interactive projector. I haven't had a lot of success with interactive projector technology because I've found them a bit quirky however SMART's new projector was very responsive and was dual-touch as well. It was also only $2000.00 which was definitely a cost effective way to include interactive whiteboard technology in your school. SMART also introduced their re-designed SMART table. This table is sleek and durable! I know of one VP who is looking for this kind of table for her school which has a very high population of special needs students who I believe would benefit very much from these tables.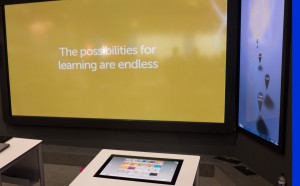 Promethean also has an interactive table that has a prominent place at their booth. In one demonstration that I saw, they showed how you could use the Promethean Board and table together where the board became an extended screen for the table. Definitely an interesting possibility.
One of the most exciting pieces of innovation that I saw from SMART was the third-party application called Extreme Collaboration. This web-based component worked within Notebook 11 so that students could sign-in via QR code – regardless of device – and participate in a collaborative discussion or lesson on any given subject matter. Students could send their responses to questions or the discussion topic – from a mobile phone of tablet – and these responses would then show up on the SMART Board within Notebook 11. The teacher had the ability to find out who had sent in the response, or leave it anonymous. And this was one thing I noticed about SMART – besides the renewed energy, vision and innovative spirit – was their focus on Notebook 11. Notebook 11 was the focal point in just about every device and it makes sense. This piece of software is easy to use, has a huge user base and is open to third-party developers. Now that's Smart, SMART! From what I understand SMARTTECH will be revamping the web-based version of Notebook to be HTML5 compliant as well and their iPad app is also going to become more feature rich – that's exciting for SMART users!
Mass Customization
The term that I think was most relevant for this conference was "Mass Customization." In fact, I picked the term up from a tweet that someone had posted during BETT and it seemed to me to be the most appropriate description for BETT 2013. Most of the major vendors were providing a means for the various education entities to customize the working environment for students and teachers in a way where IT departments could more easily manage this work flow. As noted above, this was manifested in single sign-on opportunities where students could sign in to a cloud-based system and have access to all of the portals of knowledge that the school or district had access to via their particular vendor or vendors of choice.  This is worth noting because it's only going to get bigger and more powerful. Of course, the huge discussion is going to be around providing a learning environment that truly meets the needs of each individual student and is really, truly easily managed pedagogically.
There is no shortage of nay-sayers and people who think that technology is getting too overwhelming and that the point of education is being missed in the grand malaise of technology innovation. In fact, the very popular British particle physicist, Brian Cox, who had an opportunity to speak at the conference, was asked what piece of technology he thought should be included in every classroom. He responded that he would remove all technology and put blackboards back into the classroom. Interesting, but understood. I think the one great truth for those who believe in the use of technology as the great enhancer to education is that we need to stop focusing so much on the technology itself and on the teaching and learning that can happen if the technology is used properly in pedagogically sound ways. And then perhaps great thinkers like Professor Cox will see that technology can indeed make a difference in the classroom…because can you imagine if the large Hadron Collider at CERN was mothballed how he would feel? One can only imagine!
Thanks Bett 2012 and London – you were memorable!