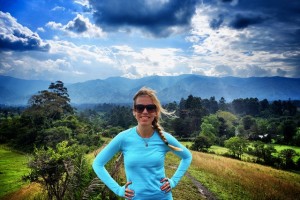 By: Mary Pat O'Meara, Digital Media Specialist, MindShare Learning
This summer I was given the opportunity of a lifetime: to join a research team with the Faculty of Education at York University working with the National Uganda Museum and travel to Uganda to work as a videographer on an amazing project. The trip was a phase in a project concerned with creating a digital architecture of participation via social media to showcase, preserve, and value Ugandan heritage and the oral stories that have built this country and its culture. The idea is to bring Ugandan heritage to the forefront, giving Ugandans a world stage to examine, (re)discover, showcase, and preserve a rich culture made richer through experience, both online and in person.
I was lucky to be given the chance to visit Uganda and visit sites and communities that have changed me as a person. From sharing raw coffee beans on the floors of traditional huts with the princesses of the Buganda Kingdom to hiking through the jungles of Western Uganda to find an ancient waterfall to touching rocks bearing 5000 year old paintings, I've been all over Uganda.  And now that I'm home, I want to go back – to see the places I missed this time around; to explore even more and push my own boundaries even farther. Uganda is a challenge, not challenging or arduous like a marathon or a Master's thesis, but an invitation to shift your thinking; to adapt and change and understand what community really means – and I want more. I know I'm not the first to feel this way about Uganda, or anywhere else for that matter. It's wanderlust. And I've got it.
There's so much more to do, and so much more to see and share and make available. We are hoping for an online launch in early 2014. We gave a presentation on this project at the Uganda National Museum. The turnout was more than I had hoped for, and the support and solidarity we were shown was so incredibly validating – this is good work. This is work with and for the Ugandan voice. This is work that needs to happen. Our research team is growing, and the data we've collected on this trip is going to start something much bigger than I realized. Just wait. You'll see.
In the picture above: Mary Pat O'Meara standing by the view of the Rwenzori Mountains in Western Uganda, possibly the most idyllic place on earth.
To see more of Mary Pat's journey through Uganda click here!