As you may gather, I have the good fortune of attending a multitude of conferences and professional learning events — One of the most interesting ones of late happened in our very own backyard,  hosted at the Schulich School of Business, York University. Our fine advisory board member, Maxim Jean-Louis, CEO, ContactNorth arranged for Sir John Daniel to present to a small gathering of professors, administrators and students. Coincidentally, Sir John Daniel was recently appointed to the Order of Canada, and is the past CEO and president of the Commonwealth of Learning.
A Guide to Quality in Online Learning shared by Sir John Daniel– Here is a  Link to his talk, courtesy of ContactNorth.
 Sir John Daniel Makes his Mark at Schulich School of Business.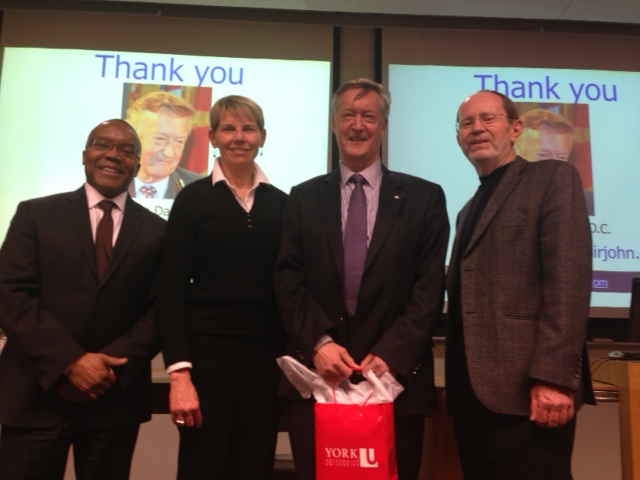 Pictured (L-R) Maxim Jean-Louis, Contact North; Dr. Sue Vail, York University; Sir John Daniel; Dr. Ron Owston, York University
It was great connecting with Popy Dimoulas-Graham is the founder of Charity Republic, an EdTech Start-up at the Brock EdTech Showcase recently. That's a software platform that helps students find volunteer opportunities based on their interests. She was very kind to share the following link to a CBC Radio interview. I can't underscore enough the value of voluntarism in helping shape character, give back to the community and build your resume!  Voluntarism helped me grow and  augment my career over the years. It truly is a lifelong journey.
I just had to pick-up this latest NG mag while at the airport recently. "A" it reminded me of our logo and "B" there is so much to learn about the brain.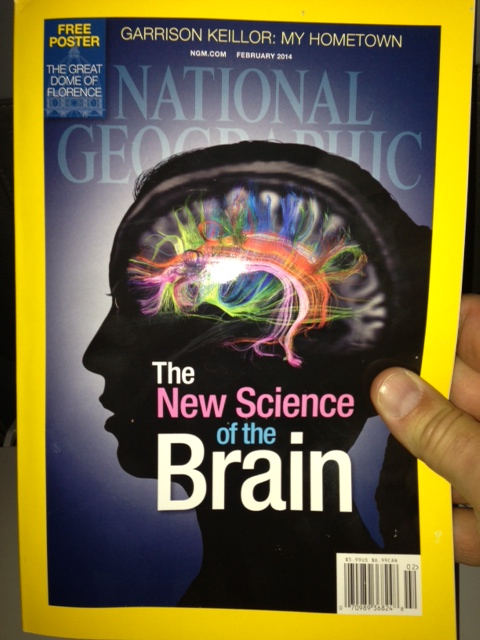 This was an excellent piece I wanted to share via my twitter buddy Angela Maiers. She's an awesome presenter and prolific writer– 12 Things Kids Want from Their Teachers
Congrats to John Baker and Desire2Learn Named a Top Canadian Employer for Young People in 2013. They are on a steep trajectory to success! This just could be the year they go for a public offering. Watch for it!
In case you missed it! MindShare's  Top 10 Canadian #edtech predictions for 2014. We welcome your further thoughts on our predications!
We greatly value our partnership with ISTE over the years. Be sure to share the ISTE Awards opportunity with your colleagues! See below for details.
ISTE awards
Calling all trailblazers, visionaries and innovators! The annual ISTE awards recognize exceptional educators and leaders who are paving the way for connected learning. We seek those whose exemplary work provides a model for teaching, learning and leading in the digital age.
Award nominations are open!
Nominations are open Dec. 2, 2013 through Feb. 28, 2014. Learn more about the required nominations materials.
Join Mining Matters on Sunday March 2, 2014 at the 2014 PDAC International Convention, Trade Show and Investors Exchange for our 7th annual Teacher's Day! This year's theme, "All that Glitters …" will have you beaming with pleasure at the glitz of the plenary talks and the pageantry of the trade show exhibitors , the radiance of the Mining Matters educational and industry partners as they work with you to shine a light on why Mining Matters to everyone!
Early bird registration is now under way and closes January 5th, 2014. Register today!
For more information or to register, visit www.miningmatters.ca.
The following is a cool article I came across reading Fast Company which is fascinating to think of engaging global thinkers in solving some of the world's most complex problems. How about figuring out how we put an end to the snow-making enough already!
WHY THIS COMPANY IS CROWDSOURCING, GAMIFYING THE WORLD'S MOST DIFFICULT PROBLEMS
Please don't hesitate to drop me a note when you have cool news to share about your school, district, college/ university, or EdTech biz!
Until next time keep the digital learning curve steep!

Follow us on Twitter @MindShareLearn
Robert Martellacci
M.A. EdTech
Publisher & Managing Editor, The MindShare Learning Report™
President, MindShare Learning™
Connecting Education & Business to Support Student Success